Under Our Skin
(2008)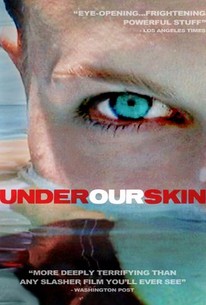 Movie Info
About the one of the most controversial illnesses in America today: Lyme disease. Most people think of Lyme disease as that thing you can catch from a tick bite, but few know the true graveness of one of the most dangerous epidemics currently afflicting people across the nation. Here, we examine not just the science of the bacteria that causes Lyme disease and the politics of the controversy but also the personal stories of those whose lives have been affected and nearly destroyed.
Rating:
PG
Genre:
,
Directed By:
In Theaters:
On DVD:
Runtime:
Studio:
News & Interviews for Under Our Skin
Critic Reviews for Under Our Skin
Audience Reviews for Under Our Skin
½
Really good. Really heartbreaking. Really good reason to stay indoors...
Cynthia S.
Super Reviewer
It's the nurse in me that draws me to watch things like this. I never knew there was such controversy surrounding Lyme disease. Somewhat thought provoking - could Lyme disease be the cause of Alzheimers and other diseases? Is it psychosomatic? Was it responsible for the death of Jimmy Hoffa? (Ok, last question I made up.) One problem about watching it - gave me the heebie jeebies for days after.
nefnie lee
Super Reviewer
½
This is a very important and dramatic movie about Lyme Disease -- a topic that many people know little or nothing about. Scary, yes. But it's better to be aware and know how to take precautions. And increasing awareness will promote more reliable diagnosis and more effective treatments. Lyme Disease spirochetes lie waiting for transmittal through a tick bite. Risky activities and sites include: backyards, beaches, hiking, gardening - or just having a picnic, or taking a walk, or sitting on a stone wall in Lyme-endemic areas. Too often, you don't see a tick getting its blood meal unless you know how to check for them and you check regularly enough. And you may not feel the bite either, because ticks have evolved to secrete an anti-itching agent in order to latch on, dine, and escape undetected. The highest risk zones in the USA for Lyme include most of the suburban northeast (especially the leafy suburbs and exurbs within 100 miles of New York City, Boston, and Philadelphia), parts of the upper midwest, central California, and other regions within the USA and around the world. Though it's been several years since Under Our Skin's debut (which I was pleased to attend) at the Tribeca Film Festival in 2008, it's now out on DVD and is just as relevant today. Under Our Skin pulls back the curtains on a stage of contested science, political controversy, and medical economics. What's revealed on the screen is a view of Lyme Disease's mechanisms and wide range of symptoms and consequences. It *can* be relatively mild and treatable with a month of strong antibiotics in many cases. But Lyme Disease also *can* be progressive and systemically debilitating to the body and maddening to the mind -- and difficult to diagnose in time for best-chance treatments. The movie accounts for low public awareness partly by showing resistance from skeptical health insurers who don't like paying for lengthy and elaborate treatment of Lyme Disease. And Under Our Skin does an admirable job of revealing, on the screen, a small but powerful set of medical scholars who are defending their earlier theories of Lyme Disease. These Lyme-skeptical medical authorities are defending narrow, ill-fitting theories that have brought to their scholarly proponents a career's worth of status, prestige and remuneration. Those narrow, outdated theories of Lyme Disease have real consequences in the world, the movie shows, where public awareness is held low, doctors are ill-informed, and patients get misdiagnosed and suffer without proper treatment. The movie shows pockets of people who have vested interests - people who don't want their old theories upended with a new paradigm for diagnosing and treating Lyme Disease. I would give Under Our Skin a full 5 stars, except that it could have represented the Lyme skeptics and moderate types a bit more faithfully while still presenting the truth as seen by the movie maker. Doing this might have added even more credibility to this powerful documentary. Under Our Skin presents a dramatic and complex story in human terms. The message is urgent and gripping.
Brian Hoeft
Under Our Skin Quotes
There are no approved quotes yet for this movie.
Discussion Forum
Discuss Under Our Skin on our Movie forum!