Old Dracula
(1974)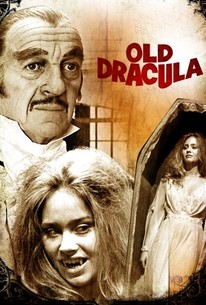 AUDIENCE SCORE
Critic Consensus: No consensus yet.
Movie Info
In this horror comedy, the aging vampire is unable to go out to dinner and must resort to holding guided tours of his castle in order to dine in. He gets a real feast when he lets out his castle to Playboy for a photo shoot with some of its best bunnies. In Great Britain, this film was known as Vampira.
Rating:
PG
Genre:
,
Directed By:
In Theaters:
Runtime:
Studio:
World Film Services
Critic Reviews for Old Dracula
There are no critic reviews yet for Old Dracula. Keep checking Rotten Tomatoes for updates!
Audience Reviews for Old Dracula
I saw this movie once, as OLD DRACULA, when I was a kid, and that's probably the only audience that can appreciate this vampiric ripoff of YOUNG FRANKENSTEIN. Would love to see it again to see if it's as good as I remember, or as bad as it probably is!
Chuck Duncan
Despite endless negative word of mouth regarding this flick, I've always felt the desire to check it out--after all, how many vampire films with a blaxploitation twist starring David Niven are there? To my surprise, it's not nearly as bad as it's reputation suggests. Not a great film, mind you, but an enjoyable time passer. Niven plays Dracula, who's recently opened up his castle to the public, creating a sort of mini vampire theme park. When a group of Playboy Playmates comes to do a photo shoot, Drac takes some of their blood in an effort to revive his deceased bride, Vampira. The experiment is a success, only Vampira comes back with a little more color in her skin than she'd left with and as not played by Christie Love herself, Teresa Graves. Drac, Vampira and Drac's faithful manservant Gilmore (Freddie Jones, also in the Ringo Starr SON OF DRACULA and the Christopher Lee SATANIC RITES OF DRACULA the same year!) journey to swinging London in order to find the girls again and get Vampira's skin color straightened out. Wacky LOVE AT FIRST BITE-like shenanegans ensue. Much of the humor doesn't work, but some of it does, like the portable fold-up coffin for t[color=transparent][color=transparent]ravel,[/color][/color] and it's never so unfunny that it's painful to watch. Niven seems to be enjoying himself, and Graves, while not the greatest actress of the Blaxploitation era (I'd go with Rosiland Cash, Pam Grier or Carol Speed) is decent and pleasing to look at. Some reviewers have complained about the film's "disco" soundtrack, but in truth, there's very little music in the film that could even be remotely called disco. In fact, most of the music seems to be decades old even when the film was first made. Only the climax of the film, at a vampire-themed disco party, and the hystericaly horrible theme song that plays over the end credits qualify as something you'd feel the need to boogie to. In all, not a bad little movie. It's no LOVE AT FIRST BITE, but it's not as jaw-droppingly awful as NOCTURNA, GRANDDAUGHTER OF DRACULA either. And where else are you going to get a chance to see David Niven in blackface?
Paul Freitag
Old Dracula Quotes
There are no approved quotes yet for this movie.
Discussion Forum
Discuss Old Dracula on our Movie forum!