Videocracy
(2009)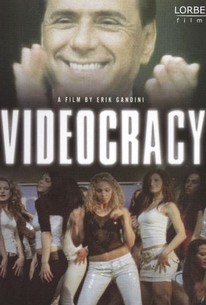 Movie Info
With the recent assault on Berlusconi in Milan where a man threw a statuette at the prime minister hitting him in the face and causing considerable injury, and the subsequent notice by his administration that the government would seek tighter controls on Facebook and other social networking sites which they claim "instigate" violence against the prime minister, this elucidating probe of Italian mass media and political skullduggery comes to U.S. audiences at a bizarre and critical moment in Italian history.Thirty years ago, Silvio Berlusconi bought a local television channel and aired a late-night quiz show featuring a sexy housewife who took off her clothes to reward callers for correct answers. The only complaints came from local factories whose employees stayed up late to watch and were too tired to work the next day. From then on, Berlusconi's empire grew and his shows became evermore heavily populated with half-naked women known as veline, young starlets charged with posing and dancing sexy and silent next to the host.How can one explain the devolution of the politics and media culture of Italy in the age of its current prime minister and media emperor Silvio Berlusconi? As the owner of Mediaset, he controls the majority of the country's private television stations, and other media outlets such as, for example, Medusa, the country's largest motion picture producer. As Italy's political leader, he maintains considerable control of the state-run RAI channels, affording him an unprecedented hybrid of executive power and private interest to control the airwaves - and to numb the minds of the populace and unapologetically shape public opinion to his financial and political benefit. Cut to August of 2009 when, as reported by the Associated Press, the powers that be at RAI and Mediaset channels refused to broadcast the trailer of the a small independent film called VIDEOCRACY (just prior to its world premiere at the Venice Film Festival) calling the spots "offensive to the honor and personal reputation of the prime minister." The film dared to probe the methods and lives of key players in Berlusconi's empire, examining how they thrive in the secret leveraging of their own conflicted interests in the realms of fame, politics and finance. Understanding that words simply cannot do his story justice, director Erik Gandini richly illustrates VIDEOCRACY with the trashy TV clips, bucolic political spots and brazen press conferences that swept Berlusconi into power - and the pandering that outshines the crassest of American broadcasters by far. Approaching the material as both insider and outsider, Gandini gains remarkable access to the opulent world of Berlusconi's associates and the armies of willing wannabes that swarm around them. Subjects range from Silvio himself, to talent agent Lele Mora, to the infamous paparazzo Fabrizio Corona (currently imprisoned for extortion), to a factory worker seeking the fame that only television can supply. In an environment where any journalist inclined to criticism faces temptation to join the party, Gandini maintains a critical distance and unravels for the viewer a modern Italy as both comedy and tragedy. -- (C) Lorber
Rating:
NR
Genre:
, ,
Directed By:
Written By:
In Theaters:
On DVD:
Box Office:
$363.00
Runtime:
Studio:
News & Interviews for Videocracy
Critic Reviews for Videocracy
Audience Reviews for Videocracy
I was relieved when this long laundry list of descriptions of malaise was over. Three stars of five. The film certainly described aspects of a couple of layers of current Italian society, but it has an unfortunate ax-grinding feel to it. I came away from watching this film knowing more than I did from just Internet news accounts, but I did not feel it is a substantial difference.
Ed Collins
"Videocracy" starts by showing the inherent superiority of European television over its American counterpart. Sadly, the documentary does not see it that way as it seems to think any undressing on television leads immediately to "Caligula."(Relax, it's not like Hugh Hefner is running the country or anything...) All of which is laid at the feet of now former Italian Prime Minister Silvio Berlusconi(why couldn't he have held on for another couple of weeks?) and his vast media empire which controls 90% of the television stations in Italy which on the face of it is very, very bad. But the documentary is less interested in his government's policies than in fame and reality programs which are not just an Italian problem but a worldwide plague. Even worse, the filmmakers in pure amateur hour fashion do not even come close to connecting the dots.
½
Not long ago I read the novel "The Monster of Florence," in which the Italian "justice" system was, well ... put it this way: I no longer care to visit Italy as an American tourist. Now comes director Erik Gandini's documentary "Videocracy," and it's frightened me away from Italian television. OK, OK, so I don't watch Italian TV, anyway. But Gandini's film elevates the corrupting influence of television to a whole new level. According to Gandini, Italian Prime Minister Silvio Berlusconi has managed to sway an entire electorate with a televisual combination of sex, youth, and beauty. Berlusconi, a charismatic media mogul and three-time prime minister, has used his television and magazine monopoly to convince the Italian populace that, with just a bit of good fortune, every last one of them can live the good life. As Gandini narrates over the film's final images: "Anyone can become popular. You just need to be seen." Gandini shows the folly of this daydream by juxtaposing the pathetic stabs at stardom by Ricky, a talentless young mechanic, with the life of luxury and decadence enjoyed by Berlusconi and his shady acquaintances, including baby-faced talent agent Lele Mora and paparazzo king Fabrizio Corona, whose hobbies include extortion and nude preening for Gandini's cameras. (Some of you ladies might consider this scene worth the price of admission; Corona is, ahem, blessed -- and not the least bit camera shy.) None of this is a revelation, of course. The "cult of celebrity" has been examined and re-examined in this country and elsewhere for decades. But unless Gandini's film is a gross exaggeration of conditions in his native country, we might all do well to turn off the tube and pick up a good book instead. Unless it's "The Monster of Florence," that is.
Grouchy Editor
Videocracy Quotes
There are no approved quotes yet for this movie.
Discussion Forum
Discuss Videocracy on our Movie forum!