Viva Las Vegas
(1964)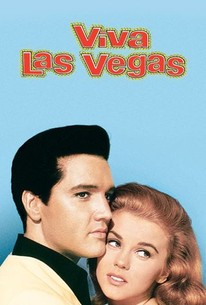 Movie Info
Viva Las Vegas, one of Elvis Presley's most popular vehicles, adheres as rigidly to formula as a Kabuki dance. Elvis plays a race-car driver competing in the Las Vegas Grand Prix opposite his principal rival, Cesare Danova. To finance his entry, Elvis takes a job as a casino waiter. Naturally, he is occasionally prevailed upon to sing, making one wonder why he didn't choose this talent as a means of making some quick cash. As always, Elvis chases all the wrong girls, only to ignore the "right" one, portrayed by Ann-Margret in her considerable youthful prime (We're supposed to believe that A-M is the daughter of irascible William Demarest. So much for the reliability of gene pools). With a pre-fat Presley, an indescribably gorgeous Ann-Margret, and no fewer than 12 songs on the soundtrack, how could Viva Las Vegas help but reap a fortune at the box office? ~ Hal Erickson, Rovi
Critic Reviews for Viva Las Vegas
Audience Reviews for Viva Las Vegas
½
This movie is worth seeing for the megawatt charisma of Elvis and Ann Margaret and the sparklingly entertaining musical numbers. It's not just the charisma of these two, but their chemistry, by far the best chemistry Elvis had with any co star in all of his mostly forgettable films. They exude, sex, confidence and talent.As almot any review of any Elvis film will say, the story and writing are perfunctory and cliched, and it doesn't even make great use of its Vegas locations. Pop culture geeks will enjoy the only other performance worth metioning, that of William Demarest, Uncle Charlie from My Three Sons as Ann Margaret's crusty papa. As for Anne Margaret, it's a shame the only three films that she is rememberd for are Bye Bye Birdie, Tommy, and this one. She is sexy, luminous, and shows a natural acting ability that she didn't get much chance to explore or reveal. She did not have the career she richly desevered on film.Carnal Knowlege is the only serious film for which she is got a chance to show those talents.. That said, anyone of a younger generation who wishes to see why Elvis was ELVIS, need look no further than this film. It's everything that made him the King in a nutshell You can't take your eyes off him, he has total audience empathy despite his impossible looks and talents. The King (and Anne Margaret) transcend the formulaic banaltiy of this film. Well worth a rental.
Josh Morris
Super Reviewer
This is one of the most popular Elvis movies, it's played on TV the most too, so if you're a fan don't miss it, it's one of his best.
I saw it once and barely remembered it. I want to say I liked it but now that I think about it I pissed my pants every time Ann-Margaret started singing.
Michael Gildea
Super Reviewer
Viva Las Vegas Quotes
| | |
| --- | --- |
| Rusty Martin: | What's the gun for? |
| Lucky Jackson: | To shoot you if you don't get out of the way! |