Waterboys
(2002)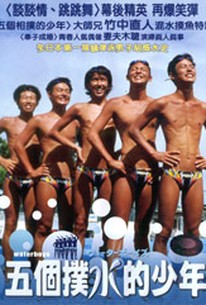 AUDIENCE SCORE
Critic Consensus: No consensus yet.
Movie Info
Can five teenage boys overcome clumsiness, inexperience, and the taunts of their classmates to become a champion team of synchronized swimmers? That's the key question in this comedy from Japan. Suzuki (Satoshi Tsumabuki) is an enthusiastic competitive swimmer who is the linchpin of his high school's swim team. However, lately there isn't much of a team to lead -- interest in swimming among the school's male students has dropped to almost zero, with Suzuki being the only one who still shows up for practice. When Sakuma (Kaori Manabe), a beautiful young teacher new to the school, takes over as swim coach, the men's team finds itself with a host of new members, but the new enthusiasm for swimming (and seeing Sakuma in a damp bathing suit) soon wanes when she unveils her dream project -- creating a boy's synchronized swimming team. While Suzuki remains loyal as always, before long only four other students remain to help make Sakuma's dream a reality -- math geek Kanazawa (Kuen Kondo), 98-pound-weakling Ohta (Akifumi Miura), athletically inept Sato (Hiroshi Tamaki), and timid Saotome (Takatoshi Kaneko), who hides the secret of his homosexuality from everyone at the school. Just as the team is starting to take shape, Sakuma is forced to take maternity leave, and with their first major public performance on the horizon, Suzuki and his teammates are driven to take advice wherever they can get it, ranging from a dolphin trainer at a water park to a group of aquatically inclined cross-dressers. By the way, if Kaori Manabe looks especially comfortable performing in a swimsuit, that's to be expected -- in Japan, she's best known as a high-profile bikini model. ~ Mark Deming, Rovi
Critic Reviews for Waterboys
There are no critic reviews yet for Waterboys. Keep checking Rotten Tomatoes for updates!
Audience Reviews for Waterboys
½
Ridiculously funny...!!! I can't count how many laughs I have while watching this movie because it was hilarious and yes it is ridiculous.. Maybe it is not the best movie you've ever seen, but surely it is one of the funniest movie you'll ever see..
Sanjaya 丘耀文
Super Reviewer
½
Waterboys, having no relation to Adam Sandler, is truly a film festival-ish movie. Director, Shinobu Yaguchi, comes through with a film about a group of high school students setting up a MALE synchronized swim team. Hence WaterBOYS.
The plot is easy to follow and while it may sound dull and feministic, this is an entertaining comedy.
The comedy may not be the funniest stuff in the world, but it is no doubt funny. The thing that contributes to the success of this picture is that the comedy is consistent. This film never dries up and turns into a drama.
Synchronized swimming is the main concept of the story, but it isn't "professional," like bobsledding is in Cool Runnings. This deals with a group of high school kids that have never done this before and the film revolves the unique training techniques they go through to put on an entertaining, not professional, performance for the finale of the film.
All the actors, especially the 5 male leads, put on entertaining performances. They are upbeat and this is fitting for a comedy of this caliber. Just beware of the cross dressers. Yep, there are a couple of cross dressers. One of the main characters is even gay. Don't let any of this chase you away though.
Waterboys may not sound like your type of film at first, but you will be missing out on an entertaining piece of work if you pass it up.
Waterboys Quotes
There are no approved quotes yet for this movie.