Waterworld
(1995)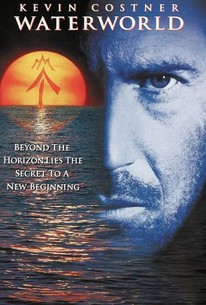 TOMATOMETER
AUDIENCE SCORE
Critic Consensus: Though it suffered from toxic buzz at the time of its release, Waterworld is ultimately an ambitious misfire: an extravagant sci-fi flick with some decent moments and a lot of silly ones.
Movie Info
This epic sci-fi actioner is set 200 years in the future. The polar ice caps have melted, flooding the continents and creating a giant ocean. People are few and far between, living as sailors or on rickety atolls made from scrap metal; in this time, dry land is considered a myth and dirt and water have become the most valuable currency. The film begins as a mysterious Mariner aboard his ingenious trimaran urinates carefully into a small jar. He then pours the golden liquid into a filtration device that purifies it and makes it drinkable. The Mariner is self sufficient and eschews humanity, except for occasional stops for supplies. He is different from other humans in that he has developed functional gills and has webbed feet. Such a mutation makes him a pariah. He cruises into a rusty atoll and tries to exchange dirt for supplies. The half-crazy people within the fortress end up putting him in a cage and planning to recycle him in a bubbling vat of green effluvium. Just before he is to die, the fortress is attacked by a flotilla of Smokers (tobacco addicted sea bikers) led by the bald, one-eyed and crazy Deacon who has come to search for a little girl with a strange tattoo on her back that is said to be a map leading to dry land. The girl and her mother escape with the reluctant Mariner. Eventually Deacon and the Smokers capture the girl and it is up to the fishy stranger to save her from their hulking lair (which turns out to be the notorious wreck of the Exxon Valdez).
People Who Like this movie also like
News & Interviews for Waterworld
Critic Reviews for Waterworld
Audience Reviews for Waterworld
Excellent! Only took me 17 years to get around to it...
Flutie Archibald
Super Reviewer
½
Waterworld is famous for being one of the biggest flops in cinematic history. At the time of its release, it was the most expensive motion picture ever produced. So is the question is, "is Waterworld the worst film ever made?" Definitely not. In fact Waterworld is an awesome action adventure epic. Sure the film has its numerous flaws, but it's really entertaining, and deserves more credit than it deserves. This film is loads of fun to watch, and despite the fact that it doesn't really boast likeable characters, it more than makes up for it with exciting action. Waterworld is visually appealing and is reminiscent of The Road Warrior, albeit not as well acted or awesome as The Road Warrior. I really think that Wterworld is underrated. Sure the film is at times silly, and is not perfect, but for the most part this is still an entertaining film that delivers on the action. Dennis Hopper plays the villain and he brings a certain morbid comic relief to the role, much like his role in Speed. Waterworld is very much underrated and it's not as bad as what everyone has said it was. The plot is weak at times, but the action makes up for it. The film is silly too, but overall it's simply a very entertaining action adventure. The cast are good, and if you enjoy some mindless action film, Waterworld delivers the thrills that you'd expect. A very underrated film that doesn't deserve the flack it has received. The film is not perfect, but it's constantly exciting, and fun, epic with a great cast. Don't believe the negative reviews, this is one impressive adventure.
Widely considered to be one of the biggest flops of all time, it's easy to see why.
Joe McCall
Super Reviewer
Waterworld Quotes
| | |
| --- | --- |
| Mariner: | How much is that tomato plant, biatch? |
| | |
| --- | --- |
| Pilot: | don't shoot the girl |
| Pilot: | Don't shoot the girl. |