The Wedding Banquet (Xi yan)
(1993)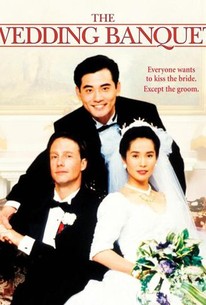 The Wedding Banquet (Xi yan) Photos
Movie Info
A gay New Yorker stages a marriage of convenience with a young woman to satisfy his traditional Taiwanese family, but the wedding becomes a major inconvenience when his parents fly in for the ceremony. Director Ang Lee came to international prominence with this warm-hearted comedy, which centers on the farcical confusion that emerges from this deception. Gao Wai Tung (Winston Chao) has never shared the truth about his sexuality with his family, and hopes to disguise his long-term relationship with his lover Simon by marrying Wei-Wei, a young artist who's only it for the green card. But Wai Tung's parents refuse to let him off the hook easily, showing up to plan a massive wedding banquet. Indeed, much of the film's comedy springs from the contrast between the sheer lavishness of the parents' plans and the sham nature of the wedding. Naturally, the titular party spins out of control, leading to a series of events that threatens all of Wai Tung's relationships. ~ Judd Blaise, Rovi
Critic Reviews for The Wedding Banquet (Xi yan)
Audience Reviews for The Wedding Banquet (Xi yan)
I thought this was a really good movie dragged down with needless melodrama in the last 25 minutes or so, poor English dialogue (and some corny subtitles for Mandarin during the melodramatic moments), pacing being hit and miss, and just an overall poor performance from Winston Chao. Other than that, this movie is quite good. There's some funny scenes in the movie, but if it was supposed to be hilarious then I never got it, other than the banquet scene, which was entertaining but also went on too goddamn long. The movie has a good story that had the potential to be better than it really was. Everything in this movie just feels like a missed opportunity. It's a massively disappointing movie since it just doesn't stand the test of time, especially compared to some of Ang's later films. But again, it's still a good movie, just one I wouldn't exactly recommend.
Jesse Ortega
Super Reviewer
Wonderful portrait of what seems like a good idea at the time which spins wildly out of control and changes everyone involved, ultimately for the better even if its not immediately apparent at the time. Beautiful ending.
Ang Lee's portrayal of the hot gay love pre-Brokeback. It's sweeter, wittier, and infinitely more Asian. The girl was a bitch.
Jennifer Xu
Super Reviewer
The Wedding Banquet (Xi yan) Quotes