White Reindeer
(2013)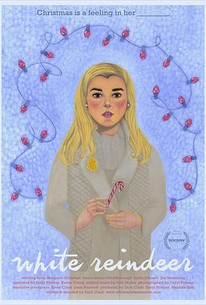 Movie Info
Christmastime is looking swell for pretty, unassuming real-estate-agent Suzanne Barrington: she just sold a house to a nice swinger couple; her weatherman husband Jeff scored a sweet new job; and her favorite holiday is quickly approaching. After a sudden tragedy takes Jeff away, Suzanne is left lost and lonely. Even worse, a friend of his confesses a secret: there's another woman. Her name's Fantasia and she works at the "girl club." In their grief, the two women form an awkward but meaningful friendship. Pushing away the ghosts of Christmas present, Suzanne falls into Fantasia's world of dance parties, shoplifting and substances! But maybe that's not what Suzanne's looking for either...(c) Official Facebook
News & Interviews for White Reindeer
Critic Reviews for White Reindeer
Audience Reviews for White Reindeer
Original, but definitely not a "Christmas movie" as such. Set in December, a woman returns home to find her husband has been murdered, and shortly after, that he was cheating on her for months with a stripper. The movie is her coping in various ways, including drug use, befriending the stripper, spending all her money online and attending her neighbors sex party. All of this is shown in quite an ugly and confronting way. Things don't tie up nearly, there is no cheesy family Christmas ending, though there is a sense of her coming through to the end of the grief and hurt. A lot is left to the viewer to interpret, which a lot of people don't like. It's not a comedy either. I liked it, but it won't suit all tastes. So be warned!
Nicki Marie
Super Reviewer
While the indie film White Reindeer is an interesting character drama, it kind of loses its way halfway through. The story follows a real-estate agent whose husband is killed a few weeks before Christmas, and after learning that he was having an affair, she spirals out of control. Anna Margaret Hollyman gives a good performance, but it becomes hard to sympathize with her character after a while. And the message of the film is really muddled; it's not about forgiveness, or redemption, etc., etc. White Reindeer lacks focus and ends up being incredibly disappointing.
Dann Michalski
Super Reviewer
Wow. What is there to say about this film. There's definitely competition between this, and Loveless Zoritsa for the worst film I've seen this week. I mean, what is going on in this film ? Her husband dies and she cries once, and seems to be okay with it. I wanted depression ! I wanted something out of this film that would touch me on an emotional level; explain the sorrows of losing someone. But instead, she starts hanging out with the stripper, Autumn (who later you find out is named Fantasia, which really, isn't much better), whom her husband cheated on her with. Why ? I have no idea. Then, she turns to burning all the money she has on clothes, and Christmas decorations, doing loads of cocaine with Autumn and her friends, and eventually, going to a sex party. The acting is horrid, even from the lead actress. Autumn, especially, was horribly acted. It was like a job done by a high school student. Don't see this film, it will frustrate you. There's no logical sense in the movie. Worst of all are the scenes in which the women do cocaine, and there are just white lights flashing. No idea what the effect is meant to symbolize, but it irritates your eyes to the point that you can't look at the screen anymore. It's funny that I'm criticizing the film, because it was one of my most anticipated at the festival. It didn't turn out the way it's synopsis described it, not at all. So my recommendation is to stay away from this one, because it's one of the most bland, boring, and worst films I've ever had to witness.
Anthony Le
Super Reviewer
White Reindeer Quotes
There are no approved quotes yet for this movie.