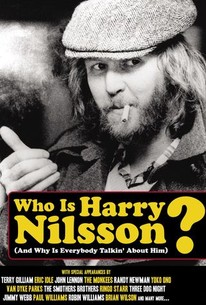 Who Is Harry Nilsson (And Why Is Everybody Talkin' About Him)?
2010, Documentary, 1h 56m
14 Reviews
500+ Ratings
Where to watch
Rent/buy
Free
Rent/buy
Rate And Review
Who Is Harry Nilsson (And Why Is Everybody Talkin' About Him)? Photos
Movie Info
Brian Wilson, Yoko Ono and Robin Williams are among Nilsson's friends, family and colleagues who delve into the acclaimed singer-songwriter's music, creative process and personal demons.
News & Interviews for Who Is Harry Nilsson (And Why Is Everybody Talkin' About Him)?
Audience Reviews for Who Is Harry Nilsson (And Why Is Everybody Talkin' About Him)?
So, who is Harry Nilsson? That's a question this informative and breezy documentary seeks to answer, after starting with the tantalizing opening of Dustin Hoffman announcing Nilsson's premature death onstage at a benefit while mentioning the vocals Nilsson provided for the film "Midnight Cowboy." In fact, of all the songs he wrote and sung, Nilsson was best known for "One" which was inspired by of all things a telephone's busy signal and popularized by the band Three Dog Night.(I'm partial to the Aimee Mann version myself.) Otherwise, his friends and loved ones regale with stories of his wild partying while never losing sight of the family he raised. Otherwise, the documentary is too dismissive of his work on behalf of the gun control movement, which Nilsson took up after the tragic slaying of John Lennon.(Nilsson and the Beatles had a mutual appreciation and friendship.) Otherwise, there is much speculation, especially in the sour grapes and amateur psychology departments, about Nilsson not being able to sustain his success. But sometimes there is no easy explanation.

A meticulous, well-made documentary about the late singer-songwriter, though it never quite gets inside his head to explain why he was so self-destructive. It's too bad that more archived conversation footage wasn't available -- the prime resource for Nilsson quotes seems to be a mere phone interview. But actually, the film is overlong in other ways and may fatigue viewers who are not hardcore devotees (personally, I find Nilsson just too cloying to fully enjoy). Interesting revelations for me included learning he was such a happy family man late in life (wow, six kids?) and that he refused to do any full-fledged concerts. For an artist with his Top 40 orientation, that's quite a ferocious stance.

Fantastic! Everything about the man (musically and personally) is so intriguing and wonderful. This was a great movie and an absolute pleasure to watch.

Yeah Harry Nilsson was great, and under recognized. And yes it's a good thing that a few more people might know who he is as a result of this film. But no, this isn't any better than some VH1 Behind the Music Episode. 20 year gaps in the story really don't help either. "Then he started shooting skag, drinking too much, and reppin anti firearm groups........................................................ married some broad, shit out some grown kids, then died an honourable death" WTF. Sorry folks hoping there might've been something new here, but there really isn't. If you don't know who Harry Nilsson is, educate yourself. If you do know, then there isn't anything new here for you, aside from some intresting anectdotes about daddy issues and heavy drinking. (and yeah heavy drinking is the term used for every other dumb ass thing this dude used.) In short this dude does deserve to be remebered, and I think the filmmakers hearts were in the right place, but don't puss out when shit gets ugly, and think just because this dude had "the voice of an angel and hung out with the Beatles" that all should be forgotten. Could have been a much better story but dissapoitned me. Well done for what it is, but whatever...
See Details