Winnebago Man
(2010)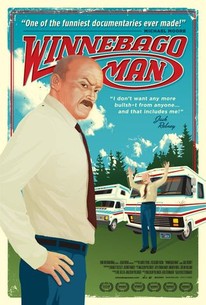 TOMATOMETER
AUDIENCE SCORE
Critic Consensus: Though it doesn't quite answer all of the questions it raises, Winnebago Man is nevertheless a fascinating, hilarious, and surprisingly poignant look at a geniunely colorful internet celebrity.
Movie Info
Jack Rebney is the most famous man you've never heard of - an RV salesman whose hilarious, foul-mouthed outbursts circulated underground on VHS tapes in the 90s before turning into a full-blown Internet phenomenon in 2005. Today, the "Winnebago Man" has been seen by more than 20 million people worldwide, and is regarded as one of the first and funniest viral videos. Filmmaker Ben Steinbauer goes in search of Rebney - and finds him living alone on a mountain top, unaware of his fame. Winnebago Man is a laugh-out-loud look at viral culture and an unexpectedly poignant tale of one man's response to unintended celebrity.
News & Interviews for Winnebago Man
Critic Reviews for Winnebago Man
Audience Reviews for Winnebago Man
½
A poignant, in-depth look at arguably the first YouTube star before YouTube even existed, that being swearing RV salesman Jack Rebney. Instead of the documentary being a mash-up "greatest hits" of this figure, director Ben Steinbauer makes a concerted effort to find out what happened to this man who was last seen by the public eye in 1989 when he was flipping out between takes of these marketing videos he would make for RVs. What makes this film so interesting is the "everyday man" tone the current Jack Rebney strikes with the viewer. He may be a bitter, angry old man, and we might not ever figure out what makes him that way, but it does not stop us from pulling for him to feel appreciated for those many lives he has, almost inexplicably, touched and all the people he made laugh through the years. Not an ordinary documentary by any means, and certainly not a film for everyone, but still a film that shows a man looking for one last run at glory before retiring into his cabin in the woods with his loving dog for good.
Dan Schultz
Super Reviewer
Who is Jack Rebney? And why is he so angry? These are the questions that film maker Ben Steinbauer wondered for years. Finally he decided to answer his own questions by finding Jack Rebney and documenting the experience. What we get is a look into the life of an interesting man. It may not answer every question you have, but it has heart and you feel a human connection with Jack Rebney. It's all about the human experience. What we find is a real, comedic adventure that I'm glad to be apart of (even as just a viewer).
Chris Miele
Super Reviewer
Jack Rebney: I don't believe that I have the capability of being able to couch anything in a vernacular that's going to be understood by the people that you want me to talk to.  Winnebago Man is an interesting enough documentary, in that we get to see the person behind the viral video. "Going viral" is a term we hear all the time now, but it has never really been anything I concern myself with. Honestly, I don't give a fuck if someone is playing with a sword, trying to do a backflip, or cussing up a storm. There's just more important stuff in the world. So I'm with Jack Rebney on that one, as he to, fails to understand the love for the video. Honestly, I don't even find the outtakes funny. Why I liked the movie to the extent I did, is because I grew to like I guy I really didn't know anything about or really care about. A filmmaker who was obsessed for years over the viral video makes a documentary on the man himself. He wants to know if the guy is truly as angry as it appears. Is he mad about the publicity? Does he care that people find his rants amusing? Who is this guy? These are all questions the film asks, and like a good filmmaker, he answers them through his subject. If there's anything we can take from a film like Winnebago Man... actually there is nothing I can truly take away from it. I didn't learn anything about the human condition or about anything that truly matters. I just learned that Jack Rebney is a pretty cool old guy that loves to swear and thinks Dick Chaney is the worst human being to ever live. That's enough for me. This little documentary did enough to entertain me, while presenting a story I can't say I really care about.
Melvin White
Super Reviewer
Winnebago Man Quotes
There are no approved quotes yet for this movie.
Discussion Forum
Discuss Winnebago Man on our Movie forum!