Wyvern
(2009)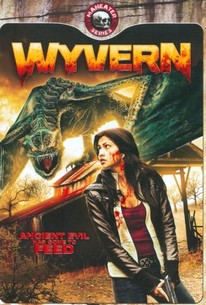 AUDIENCE SCORE
Critic Consensus: No consensus yet.
Movie Info
In this creature feature from the SyFy Channel, Nick Chinlund (The Chronicles of Riddick stars as the resident of a small Alaska town that finds itself under attack by a flying dragon -- known in medieval mythology as a wyvern -- that has thawed from its ancient slumber by melting icecaps caused by global warming. Bolstered by impressive special effects, the fantasy-horror film also boasts a strong supporting cast that includes Northern Exposure alums Barry Corbin and Elaine Miles, as well as Don S. Davis (Stargate SG-1) in one of his final roles.
Critic Reviews for Wyvern
There are no critic reviews yet for Wyvern. Keep checking Rotten Tomatoes for updates!
Audience Reviews for Wyvern
½
One of the better made Sy-Fy films, but it's everything you've seen before...just not done as well.
Ken Stachnik
Super Reviewer
½
I watched this at the behest of Irukandji. Acting/characters: Why is is that on average, a horror film has 1.5 smart characters in it? I have seen enough to know that 1.5 is the maximum amount of intelligent characters per horror film. So imagine my surprise when I find 5 or 6 whole intelligent people in this movie. Holey shamoley that's more than all of the Friday the 13th films combined! The acting was all it needed to be for this film. It's a cheap B-movie and that's all it's aiming for. actually, from what I've seen of the average B-movie, the acting in this is better. It was pretty decent actually. Not perfect but alright. 7/10 Plot: It's pretty simple and i have to imagine that it's par for the course with a film like this: Mythical creature terrorizes a small town in a secluded spot and the remaining townspeople have to figure out how to stop it. That's as complex as it gets. They do throw in one small storyline to give one of the characters (but no one else gets it) a bit of back story but they only talk about it for 5 minutes total. They could have dropped it and the film would have been the same. It was pretty simple. 7/10 Screenplay: It had its funny lines actually and I found myself laughing occasionally. But I don't think they spent a lot of time on it but who cares. They didn't. All we care about in this instance is that a Wyvern is attacking a town. a screenplay for a story like that is incidental. For what it was though, it was decent enough. 6.5/10 Likableness: I enjoyed it and I certainly wasn't bored at all. It had everything a good B-movie needs to have and it wasn't going for anything else. It was a decent little film and if I was forced to watch it again, it would be no punishment for me. If you're looking for a cheesy film with a few good laughs and an a slightly engaging story, this is the one for you. 7.5/10 Final score: 28/40 70% (D) Tomatometer Rating: N/A Tomatometer rating if m review was added: Technically 100% but they don't give an official rating until there are 5 reviews. TRIVIA TIME: In other countries,the movie is called "Dragon" (And other names with Dragon in them).This is only half true,as in Norse mythology,a Wyvern IS a Dragon. However,in other ancient mythologies,a Wyvern isn't a Dragon.Dragons have 4 legs,not 2,like a Wyvern does.
Lord Naseby
Super Reviewer
Wyvern Quotes
There are no approved quotes yet for this movie.