Rok Spokojnego Slonca (The Year of the Quiet Sun)
(1984)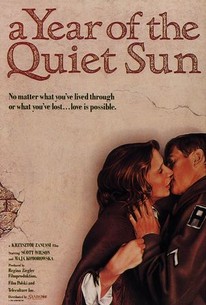 Rok Spokojnego Slonca (The Year of the Quiet Sun) Photos
Movie Info
The Polish Year of the Quiet Sun is set in the years following World War II. In a small Polish town, a United Nations war-crimes investigation is taking place. While the courtroom battle rages on, American soldier Scott Wilson takes advantage of a few precious r-and-r opportunities. He falls in love with Maja Komorowska, a war widow. Despite obvious political and ideological differences, the romance flourishes--at least until it's time for the Americans to pack up and leave. More cerebral than carnal, Year of the Quiet Sun was originally release in Poland as Rok Spokojnego Slonca.
Rating:
PG
Genre:
, ,
Directed By:
Written By:
In Theaters:
On DVD:
Runtime:
Studio:
Zespol Filmowy
Critic Reviews for Rok Spokojnego Slonca (The Year of the Quiet Sun)
Audience Reviews for Rok Spokojnego Slonca (The Year of the Quiet Sun)
In "A Year of the Quiet Sun," Norman(Scott Wilson, of CSI) is an army driver in post-war Poland for the war crimes commission when he has to relieve himself by an abandoned vehicle, almost not seeing Emilia(Maja Komorowska), who is inside working on a painting, before it is too late. Trying to make up for their awkward meeting, he offers her a ride but she refuses. Regardless, he follows her back to the bombed out apartment where she lives with her mother(Hanna Skarzanka) since their return to their native land, across the way from Stella(Ewa Dalkowska), the local prostitute. Norman returns later with paints and sunglasses for Emilia. At the same time, she is not yet ready to return his affections. And that's when the local thuggery puts in an appearance. "A Year of the Quiet Sun" is an emotionally resonant movie with a stunning final scene. As such, it is set in a time and place where everything has been swept aside, allowing for everybody to mix together out in the open, which should allow for them to begin over. However, reality sets in, as the old order not only takes hold again but predators prey on the weak. And then there are those like Emilia's mother who do not forgive so easily(she thinks Stella should be shaved for her past dealings with the Nazis but otherwise I like her), forgetting for a second who the real criminals were. So, what chance do two damaged people like Emilia and Norman have in such a world?
I can't explain everything that happened. I loved the two dance scenes, especially the final one. I also liked the scene with the burnt skeletons, when their two faces meet while the background music plays. I'd like to see this one again, I still feel there's much more to grasp. Watched on Sunday, March 4th, 2012, at the Carrollton house on the large upstairs T.V. on Netflix. It's my spring break. Dad, Mom, and Chas left for Cuba early this morning. It's just Buck and I at the house.
Zeke Taylor
Story of poles trying to settle in former German land that is now part of Poland just at the end of the war. For some reason, this pair picked a building that is almost uninhabitable. Unlike a previous reviewer stated, this building, was not 'bombed out'. Why they picked this dump, I don't know, probably a plot device. Many towns in east Germany, now Poland, had no war damage. So the mother has a serious leg injury that is infected so she stays in bed most of the movie. This is too bad, she's a better actress than the woman who portrays her daughter. The daughter, who is suppose to love painting but is only shown painting once, in an abandoned car. Why would someone paint in an abandoned car? She meets an American soldier because he's about to take a leak in thru the car window she's painting in before he realizes she's in there painting. Yes, that was the scene! Meanwhile, she bakes a couple cakes for money but thugs break in, molest her and steal their money. The American soldier, who seems to be able to take the jeep out for a spin at whim, is an American actor of dubious talent, unable to portray strength and has no charisma. Where did they find this guy? They actually have a couple dates if you can believe it. This is entirely implausible considering the circumstances. The movie continues with characters making choices that are not true to human nature in dire times.
christopher yohn
Rok Spokojnego Slonca (The Year of the Quiet Sun) Quotes
There are no approved quotes yet for this movie.