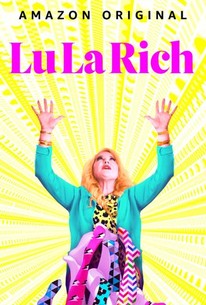 Where to watch
Subscription
Rate And Review
LuLaRich: Season 1 Photos
Audience Reviews for LuLaRich: Season 1
This was a well constructed docu series. It was informative and even handed. I didn't expect to like it, but got hooked and binged all four episodes quickly. It's part human interest and part true crime. If you are into current events then this will probably interest you.

Generally phenomenal! The only issue I have is there was a little bit of anti-European stuff in the film that I didn't really appreciate regarding one consultant not wishing to go on the annual cruise. What she said would not be allowed in reverse about any other group and I found offensive as well as an overly woke perspective applied to many issues. If those problems were not in the docuseries.... 5 stars and very intelligent and entertaining. I do recommend.

LulaRich is interesting, entertaining, educational, and sometimes heart wrenching. I appreciate that the creators allowed the founders of LulaRoe the opportunity to present their side of the story. But the footage from depositions in the Washington state lawsuit against them told us so much more about their true motivations and how much they don't care about anyone else. Why did people fall for the LuLaRoe lie? Because the owners are top-notch manipulators.

The series is mildly amusing but don't expect something resembling journalism coming out of this. It's horrifically one-sided, and out of 60,000 some retail members they managed to find 5 to bitch about their experience, at least 3 of whom appeared to make a ton of money regardless. They make completely unproven claims that the company was out to exploit vulnerable working moms, while at the same time showing many of the moms just didn't know what they were doing or how to run a business. There are video segments of the founders in a depositions that's supposed to make them look sinister, but any fool knows that in a deposition you keep your answers short, to the point, and stick to the facts. There's also a desperate attempt with two very brief, weirdly edited, clearly out of context quotes to shoehorn the concept of "racism" into what the business represented. I despise multilevel marketing, the founders character and integrity seem very questionable, but this really bad production.

Once you get past how gross DeAnne and Mark Stidham are, you will find this pyramid scheme that they somehow created (I don't think they were smart enough to establish this scam alone) fascinating and horribly wrong. Not only are they charlatans putting on the mask of good LDS members, but they are smiling while raking in money from poor folks just trying to make ends meet. The lifestyle of weight loss surgery and enticing others to follow suit, jets, cruises and high end sport cars doesn't quite fit with the "family" model that they portray. Once I got past the initial disgust of the two, the documentary is fascinating. I love a success story, but I really want DeAnne and Mark Stidham to fail. Just watching their deposition with the State of Washington will prove as such. They are the worst of the worst. But this documentary sheds light not just on the LuLaRoe scam, because it was a scam on how they handled EVERYTHING, but it explained MLM and pyramid schemes and the very thin line between the two.

It's a bit of an unfulfilled journey of a docuseries, but it's never boring and mostly maddening. Multi-level Marketing being thrown into the spotlight is a great thing, but the fact this series is on Amazon is just another way that company only does work in its own self interest. When is Amazon going to have a Doc on worker's rights in their own backyard? If you have empathy and care for fellow humans getting scammed, then you'll enjoy. There are few, if any winners here. Final Score: 8/10

I was enticed by the juicy promise of an exposé on this popular Mormon pyramid scheme, but I was disgusted by episode 2 wherein Jill Filipovic and Jill Drehmer ranted tangentially about stay-at-home motherhood being code for White supremacy. And that's after the documentary had already went out of the way to interview multiple black and latino LuLaRoe sellers. Talk about woke fatigue.

When being apart of this it seems great, but as others, the truth came out and sooo happy for other to finally see the truth great presentation of both sides. Very well put together, would love to see season 2 to have others input from LLR.

This was an incredible look at a company that took advantage of tens of thousands of women who were trying to help support their families. I sincerely hope that they are able to dive deeper and give us more seasons of this show, if not on LuLaRoe then on other MLMs.

Lularich is a great view of the weird leggings fad and the pyramid scheme behind it.
See Details