Mad Men: Season 7
(2014-2015)
SEASON: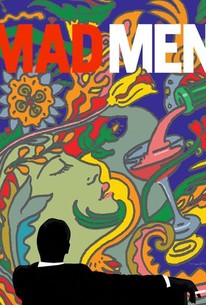 Episodes
Air date: Apr 13, 2014
The Season 7 opener finds Don making a new friend, and Joan meeting a client for drinks. Elsewhere, Peggy hears some impressive new work, and Roger experiences a strange phone call.More
Air date: Apr 20, 2014
Peggy receives flowers at the office; Pete navigates the politics of new business; Joan is put in an awkward situation.More
Air date: Apr 27, 2014
Don takes an impromptu trip; Betty has lunch with a friend; Harry lobbies for a cause; the partners consider a questionable asset.More
Air date: May 4, 2014
Sterling Cooper & Partners prepares for a guest; Don calls an old friend; Roger confronts problems at home; Pete underestimates Peggy.More
Air date: May 11, 2014
Don gets a visitor from his past; Stan embarrasses a superior; Peggy helps Ginsberg with a problem; Harry discovers a new ally at the agency.More
Air date: May 18, 2014
Peggy does research for a pitch; Pete is invited to join an exclusive club; Joan seeks time spent with a friend.More
Air date: Apr 12, 2015
Roger gives Don some unwanted advice; Peggy and Stan disagree over an account's personnel; Harry asks for Don's blessing.More
Air date: Apr 19, 2015
Roger pawns off a project onto Don; Joan goes on a business trip; Peggy and Pete clash over how to deal with an account emergency.More
Show More Episodes
Tv Season Info
The final season of the AMC period drama was originally split in half, with two sets of seven episodes each airing about a year apart. In the first half, Don (Jon Hamm) attempts to return to his advertising agency after being put on indefinite leave following a meltdown in the middle of a client meeting. Eventually, his status at the firm becomes the focus of a bitter power struggle between Roger (John Slattery) and Jim (Harry Hamlin), both of whom want to take Sterling Cooper & Partners in radically different directions. Elsewhere, Pete (Vincent Kartheiser) embraces life as a Californian, Dawn (Teyonah Parris) gets an unexpected promotion, and Peggy (Elisabeth Moss) clashes with the stodgy creative director (Allan Havey) who's replaced Don. The second half sees the series finally leave the 1960s behind as it picks up with the characters in 1970: The agency's partners are now all wealthy after accepting a buyout from a much-larger firm, but they seem as lost and frustrated as ever. While Joan, Roger, Peggy, and Ted (Kevin Rahm) all embark on new love affairs, Don responds to the pressure of working in a more-corporate environment by attempting to run away and reinvent himself once again.
Genre:
Drama
Network:
AMC
Premiere Date:
Apr 5, 2015
Creator:
Executive Producer:
News & Interviews for Mad Men: Season 7
Audience Reviews for Mad Men: Season 7
Discussion Forum
Discuss Mad Men on our TV talk forum!