A Cock and Balls Story
EPISODE: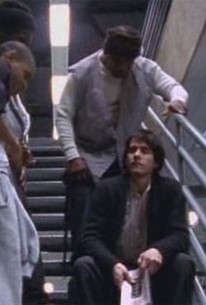 Episode Info
Adebisi (Adewale Akinnouye-Agbaje) tries to figure out what to do with his new gun. Glynn (Ernie Hudson) ends the lockdown, after warning the prisoners that the racial unrest has to stop. With Khan's death, Arif (Granville Adams) takes leadership of the Muslims, and Said (Eamonn Walker) doesn't oppose him. Cyril (Scott William Winters) is tormented by the ghosts of the men he's killed, so O'Reily (Dean Winters) tries to get Sister Pete (Rita Moreno) to arrange for him and Cyril to meet with Dr. Nathan (Lauren Velez) and her late husband's parents. Dr. Nathan refuses. After another solitary prisoner kills himself, it's decided that the prisoners will have one hour of "recreation" time per day. This turns out to mean trouble for Alvarez (Kirk Acevedo), because another prisoner in solitary wants him dead. Beecher (Lee Tergesen) contacts his father (Edward Herrmann), who agrees to help him try to locate Schillinger's (J.K. Simmons) son, Hank. His efforts to help Schillinger cause friction between Beecher and Keller (Christopher Meloni). Shirley Bellinger (Kathryn Erbe) is sent back to death row after miscarrying, and makes a new friend, Moses (Erik King). Governor Devlin (Zeljko Ivanek) is running for reelection, and may want Glynn to run for lieutenant governor. McManus (Terry Kinney) decides to propose to Diane Wittlesey, but he finds out she's marrying someone else in London. New prisoners arrive in Em City, including Mobay (Lance Reddick), who turns out to have a special relationship with Glynn. Also arriving are Galino (Domenick Lombardozzi), who unwisely gives his cell phone to Stanislofsky (Philip Casnoff), and Guillaume Tarrant (Lothaire Bluteau), who is tormented by Wangler (J.D. Williams) and his crew, until Adebisi thinks of a way to use his gun.
A Cock and Balls Story Photos
Discussion Forum
Discuss Oz on our TV talk forum!