Preacher: Season 1
(2016)
SEASON: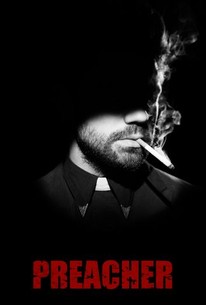 TOMATOMETER
AUDIENCE SCORE
Critic Consensus: A thrilling celebration of the bizarre, Preacher boasts enough gore, glee, and guile to make this visually stunning adaption a must-see for fans of the comic and newcomers alike.
Preacher: Season 1 Videos
Preacher: Season 1 Photos
Tv Season Info
A possessed minister teams up with his ex and a hard-drinking Irish vampire in search of answers in this drama adaptation of the Garth Ennis/Steve Dillon comic-book series of the same name.
News & Interviews for Preacher: Season 1
Audience Reviews for Preacher: Season 1
½
It's arguable that television shows have been trumping the film industry as of late. There is no question that a ten or twenty episode season/series has the freedom and time to explore characters that simply wouldn't have the pleasure in a two hour feature. Preacher is just another one of the shows that absolutely deserved the television treatment. Personally, this premise is so different that I feel audiences wouldn't have flocked to the theatres for a feature film of this nature. Personally, I'm up for anything, so I appreciate the bizarre content as much as the simplest of dramas. From religion to asking you to believe that some urban legends may even be true, this adaptation of the classic comic is not one to be missed, if you have an open mind. Here is why I believe the first season of Preacher is some of the best television I've seen in years. Easing you into the completely bizarre, there are very subtle hints at what's to come throughout the first few episodes. Beginning small while asking you to broaden your mind, Preacher follows a bunch of characters living in a down. One is a vampire, one has a dark past, one survived an attempted suicide, and the other is a preacher who has the power to make anybody do as he commands. If you watch each and every moment carefully, this show does a great job in letting you know to be ready for anything. From literally presenting God on-screen, to litterally banishing someone to hell, this show isn't afraid to take the risks that may unnerve some viewers. Like I said, if you can't go into something as a forgiving viewer with an extremely open mind, Preacher isn't the show for you. Although it's done wonderfully well, there are quite a few flashback sequences and changes of the colour palates to really have you focus on one thing at a time. Without giving too much away for those who have yet to watch the first season, this season is pretty much just a big set-up for the bigger storyline that will be present throughout the rest of the show going forward. The conclusion of this season pretty much states that the story could've been told throughout about six episodes instead of ten. You get to know a lot of characters throughout this season, but I really don't think that will matter much moving forward. The main negative about the first season can also be looked at as its riskiest positive, so that just says how surprisingly great of a series it really is. The things that add up to a great series isn't just the hook, but the technical aspects and performances throughout the great storyline. From Dominic Cooper to Ruth Negga, this cast is terrific and I can't wait to see more of them moving forward. Preacher is a series with fantastic cinematography and a very unique look. Once this season ends, it leaves you needing more from these characters, so I can see this show focussing heavily on character interaction moving forward. These writers have a very large field to play in when cooking up scenarios for them. From its look to its editing/music, everything about Preacher is enthralling. In the end, this is the type of show that will have you hooked immediately when the pilot ends, as long as you are forgiving and have an open mind. That is the biggest warning I can give when recommending this show to someone. From terrific writing, to fantastic characters, to a premise that is wacky and loveable at the same time, the first season of Preacher is near perfect for what it set out to accomplish. Sure, like any television show, there are always going to be filler scenes/episodes that are usually the weakest of the bunch, but at a mere ten episodes, the baggage for this season isn't quite as bad as most. After reviewing the first season of Preacher, I can honestly say that this show can only get better and more interesting from here. There are many unanswered questions and I can completely see this show getting much crazier. Who knows if the fan base of this show will grow or if it will be able to last for a lot of seasons, but we're just talking about where the show presently sits, and it's wonderfully brutal series.
½
An entertaining and provocative supernatural series from AMC, Preacher is remarkably daring and gritty. Based on a Garth Ennis comic series, Season 1 follows a country preacher named Jesse Custer who gets possessed by a strange spirit that gives him the power to command people to do his will, leading to a pair of angels to come and try to remove it. Dominic Cooper is especially good as Jesse, giving an outstanding performance. And co-star Joseph Gilgun does an excellent job as the comic relief, playing a hundred year old Irish vampire. Also, Jackie Earle Haley makes for a terrific villain, stealing ever scene he's in. However, there are some storytelling problems as there are a lot of flashbacks and tangents that make the episodes feel disjointed at times. Yet, the characters are well-written and it all sort of comes together in the end. While it has a few weak points, Preacher has a unique vision and delivers a solid first season.
Discussion Forum
Discuss Preacher on our TV talk forum!