Star Trek: The Next Generation: Season 1
(1987 - 1988)
SEASON: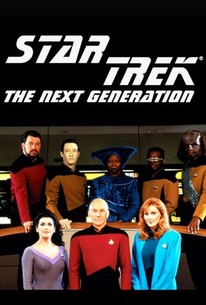 Rate And Review
Star Trek: The Next Generation: Season 1 Photos
Tv Season Info
A new crew boards a revamped USS Enterprise in the first spin-off from the '60s cult classic. Set some 70 years after the Captain Kirk era, the syndicated sequel follows the seven-year trek of Captain Jean-Luc Picard (Patrick Stewart) and his colourful subordinates(including a Klingon!) as they encounter new life forms and foes.
News & Interviews for Star Trek: The Next Generation: Season 1
Audience Reviews for Star Trek: The Next Generation: Season 1
Oh my great life star trek

The next generation is a great series

A few standout episodes such as "Heart of Glory" and "Arsenal of Freedom", and the notable concept/moral science fiction links don't save it from being a mostly forgettable season. Not to mention particularly rotten episodes such as "Skin of Evil" and "Code of Honor" that are disrespectful and racist, respectively. Watch the first episode and maybe the two standout ones, but its unremarkable otherwise, as far as I'm concerned.

Season 1 has a lot of writers from TOS and it shows. Some of the episodes did not age well at all (Code of Honor comes to mind.) That being said it's still the start of my favorite television series of all time, and I can't bring myself to rate it lower than 4/5.

Plain simple classic. Has his ups and downs but every minute of it is still way better than anything new produced by the Kurzman folks.

Fall asleep to this show for years, but also have actually watched every episode awake as well

Fantastic stories, imaginative beings and worlds, profound explorations of human nature that can teach us all so much. Love the characters in the crew - positively diverse. Start at the beginning knowing that it gets better and better. Truly great series.

Excellent. I love this season, the start for something brilliant.

A couple of episodes were rough, but besides that this is a decent start to one of the greatest TV shows ever

Undeniably adventurous, charming, and socially aware.