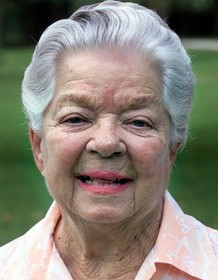 Frances Langford
Highest Rated: 91% Yankee Doodle Dandy (1942)
Lowest Rated: 75% Melody Time (1948)
Birthday: Apr 4, 1913
Birthplace: Lakeland, Florida, USA
Frances Langford found incredible success as an accomplished actress, appearing in a variety of films throughout her Hollywood career. In her early acting career, Langford appeared in such films as "Broadway Melody of 1936" (1936) with Jack Benny, "Born to Dance" (1936) and "Hollywood Hotel" (1938) with Dick Powell. She also appeared in "Dreaming Out Loud" (1940), the musical comedy "Too Many Girls" (1940) with George Bassman and "Hit Parade of 1941" (1940). Her film career continued throughout the forties in productions like the James Cagney biopic "Yankee Doodle Dandy" (1942), the Irving Berlin musical "This Is the Army" (1943) and "People Are Funny" (1946). She also appeared in "The Bamboo Blonde" (1946). Langford's music was most recently featured in "Hollywood Ending" (2002). Additionally, she could be seen on a variety of television specials like "The Bob Hope Show (01/13/60)" (1959-1960), "The Perry Como Valentine Special" (NBC, 1966-67) and "Bob Hope's "Don't Shoot, It's Only Me"" (NBC, 1990-91). Langford was married to Jon Hall. Langford passed away in July 2005 at the age of 91.
Photos
PURPLE HEART DIARY, Frances Langford, 1951
YANKEE DOODLE DANDY, Frances Langford, James Cagney, 1942.
THE BAMBOO BLONDE, Frances Langford, 1946
THE GLENN MILLER STORY, Frances Langford recreating her real-life performance for troops during World War II, 1953
PEOPLE ARE FUNNY, Frances Langford, 1946
BEAT THE BAND, Frances Langford, 1947
BEAT THE BAND, Frances Langford, 1947
EVERY NIGHT AT EIGHT, Frances Langford, Alice Faye, Patsy Kelly, 1935
ALL AMERICAN CO-ED, from left: Frances Langford, Johnny Downs, 1941
THE BAMBOO BLONDE, from left, Iris Adrian, Frances Langford, Jane Greer, Russell Wade, 1946
THE BAMBOO BLONDE, from left, Ralph Edwards, Frances Langford, 1946
BORN TO DANCE, Frances Langford, Buddy Ebsen, Eleanor Powell, James Stewart, Una Merkel, Sid Silvers, 1936
THE BAMBOO BLONDE, from left, Russell Wade, Frances Langford, Jane Greer, 1946
SAILOR'S LADY, Jon Hall, left, visted on-set by his wife, singer Frances Langford, 1940, TM and Copyright ©20th Century Fox Film Corp. All rights reserved
TOO MANY GIRLS, front from left: Hal LeRoy, Ann Miller, Desi Arnaz, Frances Langford, Eddie Bracken, Libby Bennett, 1940
BORN TO DANCE, Frances Langford, Buddy Ebsen, Eleanor Powell, James Stewart, Una Merkel, Sid Silvers, 1936
DIXIE JAMBOREE, Frances Langford, Louise Beavers, Gloria Jetter, 1944
BORN TO DANCE, Buddy Ebsen, Sid Silvers, Una Merkel, James Stewart, Eleanor Powell, Alan Dinehart, Frances Langford, Raymond Walburn, 1936
TOO MANY GIRLS, Frances Langford, Ann Miller, Lucille Ball, Eddie Bracken, Hal LeRoy, Richard Carlson, 1940
EVERY NIGHT AT EIGHT, from left: Patsy Kelly, Alice Faye, Frances Langford, 1935