The Glenn Miller Story
(1953)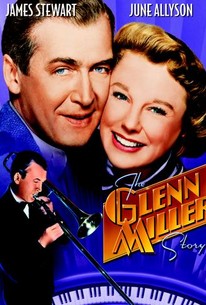 The Glenn Miller Story Photos
Movie Info
Not only was The Glenn Miller Story one of the most profitable biopics ever filmed, but it also was one of the few to pay more than lip service to the facts. The film traces Miller's rise from pit-orchestra trombone player to leader of a successful big band.
Critic Reviews for The Glenn Miller Story
Audience Reviews for The Glenn Miller Story
Spoiler alert: Glenn Miller was shot down while serving for the U.S. military during World War 2. That's right, fighting Adolf Hitler. A very popular musician killed while fighting the Antichrist. So this film is less historical, more of a memorial. Some parts are downright sanctimonious, cleaned and sanitized and ironed and starched past all recognition of real life and done, mind you, for your protection in that Hollywood way (lest dat jive starta discombobulate ya). The story could be easily dismissed as bad high school quality theater, despite the talent in front of you. But then they play the music, and the sense of the times and the people who lived them comes rushing to the fore, a palpable force. "The music will live forever" is said at the end, and that part they got right.
Kevin M. Williams
Super Reviewer
½
This is the second of three movies that Stewart and Allyson worked together that I have seen. They really do work well together in that clean, golly gee, kinda way. The actors are great, the music is excellent, and the story is ok; although not historically accurate. It's all about the great music.
nefnie lee
Super Reviewer
The Glenn Miller Story Quotes
There are no approved quotes yet for this movie.