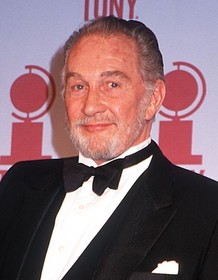 Roy Dotrice
Highest Rated: 90% Tales from the Crypt (1972)
Lowest Rated: 13% The Scarlet Letter (1995)
Birthday: May 26, 1923
Birthplace: Guernsey, Channel Islands
Roy Dotrice was a British film, television and stage actor whose wide-ranging career spanned multiple decades and dozens of roles, beginning in the 1950s and lasting well into the late 2000s. Born on the British island of Guernsey, just off the coast of Normandy, Dotrice's young life took a dramatic turn when, at the age of 16, he enlisted in the British Royal Air Force so that he could fight in World War II. As fate would have it, though, Dotrice's plane was shot down in 1942 and he spent the next three years jailed against his will in a German prisoner of war camp. It was during his imprisonment that Dotrice first learned he had a talent for performance. To cheer up the spirits of his fellow prisoners he would put on impromptu concerts that were always well-received. After the war ended Dotrice decided to pursue a career as a professional performer, and after working as a voice-over actor for a BBC comedy series, he began studying acting in the Royal Academy of Dramatic Art. By the 1950s he was appearing in numerous plays on Broadway, and would eventually go on to win a Tony Award for his role in a Broadway revival of Eugene O'Neil's "A Moon for the Misbegotten." By the late 1950s Dotrice was appearing on television in various bit parts.  His first major role came in 1965 when he played King Edward IV on the BBC mini-series "The War of the Roses" (1965-66). He would go on to appear in dozens of more TV shows in the ensuing decades, among them "Dickens of London" (Yorkshire Television, 1976), "Beauty and the Beast" (CBS, 1987-1990) and "Picket Fences" (CBS, 1992-96). His acting career remained vital as he reached his 70s and 80s. In the 2000s he appeared in a number of TV shows, as well as the films "These Foolish Things" (2005), "Go Go Tales" (2007), and "Hellboy II: The Golden Army" (2008). In 2010 it was announced he would be appearing on HBO's blockbuster fantasy series "Game of Thrones" (HBO, 2011- ), but Dotrice, who was already in his late 80s at the time, had to drop out due to health reasons. Still, he was able to play Hallyne on two episodes of the series that aired in 2012. His role on "Game of Thrones" would prove to be Dotrice's last on-screen credit. Roy Dotrice died on October 16, 2017 in London. He was 94.
Photos
TALES FROM THE CRYPT, Roy Dotrice, 1972
THE CUTTING EDGE, D.B. Sweeney, Roy Dotrice, Moira Kelly, 1992, (c) MGM
THE CUTTING EDGE, Roy Dotrice, D.B. Sweeney, Moira Kelly, 1992./ (c) MGM.
THE SCARLET LETTER, Roy Dotrice, 1995, (c)Buena Vista Pictures