Swimming with Sharks
(1995)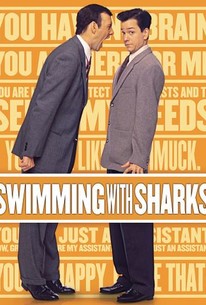 TOMATOMETER
AUDIENCE SCORE
Critic Consensus: Swimming With Sharks is a smart, merciless Hollywood satire that's darkly hilarious and observant, thanks to Kevin Spacey's performance as ruthless studio mogul Buddy Ackerman.
Swimming with Sharks Photos
Movie Info
Originally screened at Telluride as The Buddy Factor, Swimming With Sharks is an uneven but engrossing picture, and a possible warning to anyone with plans to break into the motion-picture business. When Guy (Frank Whaley), a recent film-school graduate with big ideas, takes a job as assistant to major studio executive Buddy Ackerman (Kevin Spacey), he believes his ship has finally come in; little does he know it's a slave ship, for his boss is indeed worse than a slave driver. Buddy delights in abusing his boy-toy (exemplified by the scene in which he forbids Guy to go to the bathroom as he pours water back and forth from a glass to a pitcher). Meanwhile, Guy struggles to push his idea for a script and feels he's finally made it when Buddy congratulates him on a job well done. However, much to his chagrin, his conniving boss actually takes sole credit for the project, pushing the young assistant to wit's end -- he breaks into Buddy's Beverly Hills showplace and takes him hostage, then proceeds to torture him in a number of demeaning and horrifying ways. The whole film stands as a sort of parable about the value system in Hollywood and the cost of reaching the top; it doesn't play like real life, but it's not supposed to. The real reason to watch the film, however, is Spacey's performance. He manages at once to be terrifying, hateful, and hilarious, and he makes Buddy Ackerman a character the audience won't soon forget. ~ Jeremy Beday, Rovi
People Who Like this movie also like
News & Interviews for Swimming with Sharks
Critic Reviews for Swimming with Sharks
Audience Reviews for Swimming with Sharks
Sometimes knowing fairly little about a film makes it better when you finally see it. Let me tell you, Swimming With Sharks can make you laugh, be shocked or even both. The film slightly focuses on dark humour, along with being realistic in certain aspects of real life; such as the punk generations being lazy and wanting it all at once. It sometimes feel that the wrong atmosphere is created for certain situations. At the same time, because it mocks the younger generations,it may offend younger viewers. Ultimately, I believe that the main attention should be focused on Kevin Spacey, who plays as Guy's boss. At the same time, Spacey peforms one of his best roles in his career. Swimming With Sharks arguably gave Kevin Spacey the milestone to his successful career of 'The Usual Suspects' and 'American Beauty'
Samuel Riley
Super Reviewer
½
This tawdry little drama crossed some delicate lines drawn in the sand during the nineties. It was bold, innovative, and in the indie frame of mind. The sheer ruthlessness of the script was really something we wouldn't see until psychological thrillers emerged, or unless we ventured into horror. I did find the way it was presented to be shoddy. This film is supposed to be edgy and out there, but it relied on somber, low music in every scene as a way to impart that it was one worth watching. The style was all wrong, the flashbacks felt jerky, and the reveal was pointedly sloppy. The entire ending was by far the most disappointing part of this film, as it felt hurried, as if the screenwriter was unaware of where to go after getting themselves into a corner. I want to praise the grand master of acting, Kevin Spacey, as he took on an indie role in the midst of his success with The Usual Suspects, and then nailed it. I wondered how Spacey could take the role in Horrible Bosses after rarely doing comedy, but then I saw this movie and realized he was just rehashing a previous role. Just as in that film, Spacey is darkly funny, while also portraying the inner callousness of the bossman, and showing the tiny insignificance of the working stiff. Frank Whaley, who has gone on to do great character work whilst portraying murderous sods, was the perfect choice for this. He is just pathetic enough to work, curious and yet prophetically odd. I can equally understand why anyone wouldn't like this, because it mostly consists of someone getting yelled at, but the intercutting scenes of the future really hold interests, and some of the ideas expressed were pretty original. I liked the flow, and it did make me think about the lives of assistants and my own ends, which will probably be as awful since I am an English major. That ending, of course, was the worst thing about it, but otherwise it's a good watch and a great reminder that independent gems are found in the most unlikely of places.
Spencer S.
Super Reviewer
Rex: This is not a business, this is show business. Punching below the belt is not only all right, it's rewarded.  "Life is not a movie" I loved everything about Swimming With the Sharks, right up until the unsatisfying ending. Even with an ending that leaves something to be desired, this is still a worthwhile and extremely good film. It's dark and it's funny. Two things I love in movies. It has Kevin Spacey doing what he does best and that is acting like a complete asshole. It has Frank Whaley acting as a cowardly assistant, and he is perfectly cast.  I can see some people not enjoying this movie at all. It's all dialogue and little action. Most of the runtime is spent watching an assistant get yelled at for the smallest things. But it's funny and extremely well written. Every tirade that Kevin Spacey goes on feels perfect. The changes in Frank Whaley's character feel perfect. This movie feels perfect. If only it could have come up with the perfect ending. The movies plot follows an assistant to a movie executive. He gets in a relationship with a producer and begins to put plans together for a movie. He has to deal with his difficult boss and every little detail of the mans life. It gets to the point where he can do almost nothing else. Every aspect of his life is ruled by his boss. I love movies of this type. It has a definite feeling of independent filmmaking powering it. It's a pretty harsh and dark comedy, which I love. As a fan of dark movies, I feel that this does just about everything right. It developed it's characters in a way that made us genuinely care about one and hate the other. It presented dark themes in humorous ways, and it never backed away from how depressing Guy's life is, now that he is under the command of Buddy. This would probably be one of my favorites of all-time if it had found a better way to wrap up the story.
Melvin White
Super Reviewer
Swimming with Sharks Quotes
There are no approved quotes yet for this movie.