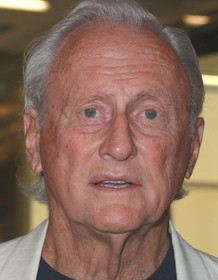 Samuel Goldwyn Jr.
Highest Rated: 85% Master and Commander: The Far Side of the World (2003)
Lowest Rated: 10% Once Bitten (1985)
Birthday: Sep 7, 1926
Birthplace: Los Angeles, California, USA
Son of legendary independent Hollywood producer Samuel Goldwyn and a respected independent producer and distributor in his own right, Samuel Goldwyn Jr. began his career in England with the J. Arthur Rank Organization as a writer and associate producer after World War II. Recalled to Army service during the Korean War, he produced the award-winning documentary "Alliance for Peace" (1952) before forming Formosa Productions in 1955 and producing such films as "Man Without a Gun" (1955), "Proud Rebel" (1956) and "The Adventures of Huckleberry Finn" (1960). In 1961, he made his directorial debut with the college youth film, "The Young Lovers" (1964). During the 1970s, he produced the Chester Himes caper films "Cotton Comes to Harlem" (1970) and "Come Back, Charleston Blue" (1972). In 1979, Goldwyn set out the production and distribution shingle The Samuel Goldwyn Company, producing highly regarded indie films like Amy Jones' romantic comedy "Mystic Pizza" (1988) and the Bette Midler drama "Stella" (1990). The company also distributed award-winning art house fare such as Bill Forsyth's "Gregory's Girl" (1981), Alex Cox's "Sid and Nancy" (1986), Stephen Frears' "Prick Up Your Ears" (1987), Robert Townsend's "Hollywood Shuffle" (1987), and Kenneth Branagh's "Henry V" (1989). As the independent film scene in America heated up, Goldwyn distributed Charles Burnett's "To Sleep With Anger," David Lynch's "Wild at Heart," and Luc Besson's "La Femme Nikita" in 1990, followed by Matty Rich's "Straight Out of Brooklyn," John Sayles' "City of Hope" and Claude Chabrol's "Madame Bovary" the following year. Goldwyn subsequently enjoyed considerable success with Branagh's production of "Much Ado About Nothing" (1993) and Ang Lee's charming low-budget comedy "The Wedding Banquet" (1993). Moving back into production, Goldwyn produced the Whitney Houston/Denzel Washington romantic fantasy "The Preacher's Wife" (1996) and the Latin-themed romantic comedy "Tortilla Soup" (2001), based on Lee's "The Wedding Banquet." His biggest success came with the blockbuster "Master and Commander: The Far Side of the World" (2003), which won six Oscars including Best Picture. A decade later, Goldwyn's final production credit came with Ben Stiller's big-budget expansion of the classic James Thurber story "The Secret Life of Walter Mitty" (2013). Samuel Goldwyn Jr. died on January 9, 2015 in Los Angeles. He was 88 years old.
Skip to Quotes