Fatal Beauty
(1987)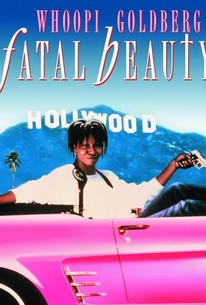 Movie Info
In this action-packed crime film, undercover detective Rita Rizzoli (Whoopi Goldberg) is on a mission to uncover the mastermind behind a large drug ring pushing a killer batch of cocaine.
Critic Reviews for Fatal Beauty
Audience Reviews for Fatal Beauty
One of the worst movies I have ever tried to watch. This is so bad, you will feel terrible watching it. You will blame yourself for every single minute of your life wasted on it. You will then waste more time dwelling on how bad it was, and struggle to get it out of your head. I'm going to be paying for this one for a long time.
Mike Bierman
½
Whoopi was on a roll there for a minute. She made her film debut with a vengeance in "The Color Purple" and immediately a movie star was born. Then, she showed a real knack for comedy with her stand-up act and appearances at Comic Relief. Then came 1987, and a trio of films that she almost never recovered from. Some would argue that she never did. How you go from starring in Steven Spielberg's Oscar nominated film to "Fatal Beauty" in only a span of two years is a complete mystery to me. This wretched, alleged comedy is an utter disaster from beginning to end, and Goldberg is completely charmless in the lead role. Maybe it's just because the rest of the picture is so ugly, but she doesn't register a single laugh here. The action sequences are violent and way over-the-top. They just don't gel with the amiable tone of the rest of the picture. In fact, the whole plot concerning drug dealers and a new, especially lethal narcotic doesn't fit in with Goldberg's easy-going nature. And the whole romantic sub-plot, pairing her up with Sam Shepard is just embarrassing and unconvincing. It's nice to see a filmmaker take a chance with a bi-racial romance, but these two stars have zero chemistry. "Fatal Beauty" is a loud, dumb and boring action comedy that's neither exciting or funny. Who thought this was a good idea?
Timothy Sanders
½
One of only two Whoopi led films that I can not only stomach but actually really like. Sure the action is a little on the cheesy side, but the writers actually did a little more than whip up a script over the weekend with Goldberg in mind. From the name of the character one might think they had an Italian actress in mind. Regardless it's a good female-led action cop movie.
Jonathan Phaup
Fatal Beauty Quotes
There are no approved quotes yet for this movie.
Discussion Forum
Discuss Fatal Beauty on our Movie forum!