The $1,000,000 Duck
(1971)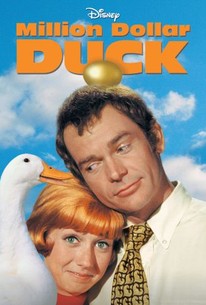 The $1,000,000 Duck Photos
Movie Info
Dean Jones and Sandy Duncan as a couple who hit the quack-pot when their pet lays golden eggs. Joe Flynn, Tony Roberts. Rutledge: James Gregory. Jimmy: Lee Harcourt Montgomery. Gottlieb: Jack Kruschen. Eunice: Virginia Vincent. Arvin: Jack Bender. Orlo: Billy Bowles. Purdham: Arthur Hunnicutt. Vincent McEveety directed.
Rating:
G
Genre:
, ,
Directed By:
Written By:
On DVD:
Runtime:
Studio:
Walt Disney Productions
Critic Reviews for The $1,000,000 Duck
Audience Reviews for The $1,000,000 Duck
½
The critics don't know golden entertainment even when it is as clear as day. I wouldn't go as far as to say that this is one of my favorite live-action Disney films, but it is a lot of fun. The remarkably talented Dean Jones puts on a wild show. He really doesn't get the credit he deserves as so few can entertain on screen the way he did. (First and only viewing - In my mid-twenties)
Adam R
I saw this once when I was a child. This was only the 2,000th movie Sandy Duncan and Dean Jones did for Disney so it's like all the others; slapstick, lame dialogue and an animal with some inexplicable superpower (in this case a duck laying the golden egg. I thought geese laid golden eggs?). Great for a family who have nothing better to do on a Saturday night or lazy Sunday afternoon dreading going back to work/school the next day.
J K
½
Disney Parenting Strikes Again Gene Siskel walked out on three movies in his entire career; this was one of them. I present you with this fact in minor astonishment. Doubtless if we searched his past reviews, we could find much, much worse movies. Indeed, the relevant review does not appear to be available online, more's the pity, because I would really like an explanation. I have Roger's review around here somewhere, though it isn't on his website, either. People are more than willing to tell me that it's one of the three, and they're certainly willing to link me to his review of [i]Black Sheep[/i], the last of the three (you may have seen it before, when it was called [i]Tommy Boy[/i]), but I am unable to find an explanation on this one, just the bare fact. It perplexes me, because while I cannot in honesty call this a good movie, I've seen worse, and I've seen worse from Disney. Possibly there is worse from Dean Jones--I haven't seen [i]The Ugly Dachshund[/i] all the way through in some time. But no, this is it. It is true that Our Hero, Professor Albert Dooley (Jones), is a rather unpleasant sort. When he was young, he dreamed of all he could accomplish, all the fame and glory due to an up-and-coming young scientist in the field of behavioural research, perhaps missing that there is very little glory in the field of behavioural research. At any rate, he is now married to Katie (the eternally dippy Sandy Duncan) and the father of a son, Jimmy (Lee Montgomery). It's not that he doesn't love them. It's that they're spending beyond his means. A friend of Jimmy's offers him a dog--for $50. Jimmy does not understand that this is more than the budget will stand--but Katie later says a dog can't eat more than a duck, so it probably runs in the family. At any rate, there is that duck, a former research animal in Albert's lab. It is stupid even for a duck. It fails its last test, and Albert takes it home rather than have it killed. Only the duck has been irradiated in such a way that it now lays golden eggs. Hilarity, poor spending habits, law-breaking, and bad parenting, in no particular order, ensue. The thing is, Jimmy has one each of a type of bad parent. Because Katie is just so dumb, he can get away with a great deal. She is ferociously devoted to her child, and woe betide he who gets in her way, but she is still awfully dumb and pretty permissive. On the other hand, despite his claims that he and Jimmy are best friends, Albert seems more interested in his work and, later, the duck. Midway through the picture, Katie says that he should close the window, because it's getting cold in Jimmy's room and they don't want "him" to catch cold. Albert agrees, closes the window, and covers the duck. This is supposed to be the ultimate sign, I think, of how the idea of fabulous wealth has filled Albert's mind with avarice and made him have the wrong priorities. We are, for one, supposed to think of "Charlie" (the kid doesn't seem to get that only girl ducks lay eggs and refers to it as "he" throughout) as being just a kid's pet, but by age ten, I had a pretty clear view of being poor, and if I had a duck which laid golden eggs--well, the cats would have killed her. But you get the point. More worrisome to me, actually, was that both women in this movie--and there are really only two--are total dingbats. Albert and his friend, Fred Hines (Tony Roberts), take it for granted that Katie can just go into a refinery office and inform them that the gold was laid by a duck, and while they'll think she's crazy, it won't seem out of character. She shows a minor trend for malapropism which seems just a kicker on her wackiness quotient. Similarly, we have Eunice Hooper (Virginia Vincent), wife of grumpy neighbour Finley Hooper (perpetually sour Joe Flynn), who cannot understand that there might be a cause for the reactions she sees her husband have. There are a couple of stupid teenagers (Arvin, played by Jack Bender, and Orlo, played by Billy Bowles), and they're good for a minor laugh in their hippie teenage ways, but mostly, we're laughing at Katie--there are no women who are not jokes. You know, for all its failings, it's a harmless little movie, really. I don't think most people would even notice what is arguably anti-feminist subtext. And, of course, the Wadlow brothers are just Disney hippies, throwing the term "bigot" where it isn't appropriate because someone is doing something they don't like. Not to mention how they recklessly put Jimmy in danger, and not just by driving him around on their terrifying dune buggy. When I was seven, though, I thought this movie was incredibly funny--though I think I still recognized the stupid lack of foresight on the part of the Wadlows. If you look too closely, it's offensive, but if it were that which drove Gene out of the theatre, there should have been far more movies which did. It's dumb, but even without trying, you could produce a very long list indeed of even dumber movies between 1971 and 1999. (Notably [i]Black Sheep[/i]!) I honestly cannot determine any reason for the severely negative reaction which could not have been produced by dozens of other movies, often in similar combination to what we have here. Maybe he was just allergic to apples or duck feathers or something.
Edith Nelson
The $1,000,000 Duck Quotes
There are no approved quotes yet for this movie.