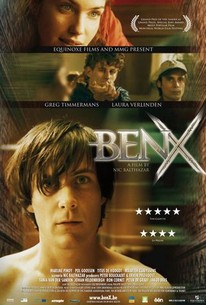 Ben X
2007, Drama, 1h 33m
39 Reviews
5,000+ Ratings
What to know
critics consensus
Thoughtful and provocative Dutch film concerned with autism, online gaming and bullying, though loses steam in the final act. Read critic reviews
Where to watch
Rent/buy
Rent/buy
Rate And Review
Movie Info
An autistic teenager (Greg Timmermans) dives deeper into the world of online gaming after cruel classmates humiliate him.
Audience Reviews for Ben X
Living with any kind of disorder is difficult and making movie base around those disorders usually have mix results. The case could made with Ben X as it suffers from it story. Ben X is about As an alternative to getting bullied at school, an autistic teenager retreats into the world of online role-playing games. Ben X is uneven in storytelling with a weak third act. The first two act could be slow at times, but they don`t constantly repeat the idea Ben suicide. This makes the third act a letdown and repetitive as it challenges you to keep watching even though you have a good idea where it`s going by that point. Throughout the movie we get both what`s happening in the movie and mockumentary like segments. These mockumentary segments took me out of the movie because they often provide obvious insight on what already happened and how the characters feel. As for the movie itself it`s interesting, but slow for the first two act showing us Ben bullied in school, monolouge from Ben telling us how he exactly feels, and some scene expressing Ben loniness. Even though I don`t know much about the actual teenager this movie is based on, I feel the ending doesn`t give the audience hope for people with any kind of Autism. The character Scarlet, who`s important to Ben in the third act, makes Ben happier about being alive and changes him for the better, well it turns out that she`s imaginary. Ben only friend who understands and comforts him in a difficult time is imaginary, that dosen`t help the people diagnose with Autism feel hopefull about the future and feel better about themselves. Ben X story might have enjoy as much as everyone else, but it`s not bad in my view. It just should`ve taken a different direction. The cast does a good job doing what they're supposed to do, but they're not interesting. There was not one single moment in the movie did I care for any for the character, but at-least the cast makes the flawed story more tolerable and watchable. Not much else could said about this movie beside the cast makes worth a watch, even if the story doesn't have the impact it was aiming. Ben X is not a great movie about Autism due to the uneven writing and ending. It's not bad, but it's not what could have been.

Making a film about a person who is challenged in some way, be it mentally or physically, is always a tricky task. Good intentions of trying to raise awareness can sometimes come off as arrogance, self-righteousness, or simply a complete lack of understanding towards the subject. It doesn't help that the world at large tends to view people like this as handicapped (a term I loathe), and requiring of pity. As someone with Aspergers syndrome, this subject hits particularly close to home. When I hear people offer pity for the condition, or "hope for a cure," it comes off as unfathomably offensive. Understanding however is something that I welcome, and sometimes I will refer them to a film that shows what it's like to be an aspie (particularly since film is one of my "obsessive interests," a symptom of Aspergers). Of the films I've seen that deal with the condition, this one comes the closest to what it's like. Perhaps I should address what Aspergers is for those who don't know. It's a form of high-functioning autism that, among other things, is characterized by obsessive interests, difficulty with expected social skills, and what some refer to as "sensory overload." Our lead for Ben X is a teenager with Aspergers. Ben has a stronger form of Aspergers, and is clearly not medicated. That's not information given in the film mind you, that's my own personal analysis of him as a character. I guess that's a good testament to the performance by newcomer Greg Timmermans that I was able to make that diagnosis in the 90 minute runtime, but it does also strike me as odd how whenever we see someone with any sort of mental condition in cinema, it's always to the extreme. Seems a bit unfair, and people with milder cases are far more common, but I guess that's where the market value lies. The symptoms here may be presented in a more extreme manner, but they sure as hell are accurate. The film tries to make you see the world through Ben's eyes, and I think it succeeds. When he's uncomfortable, you're uncomfortable, and there are times when this movie is downright painful to watch. The film also makes clever use of editing to show the aspie way of viewing the world. When Ben's mom tells him "look at me!" he looks at her, but never makes eye contact, and instead through close-up shots we see his point of view noticing each strand of hair, each wrinkle, drops of sweat, noticing each individual detail of the face but not the face as a whole. Additionally Ben almost never talks throughout the course of the film, but his voice is still heard through an internal monologue that pervades throughout. Ben is also an avid player of the online video game Archlord. This is more than merely a representation of his obsessive interest (or a cheap marketing gimmick from the creators of Archlord, which is a real game) it's actual integral to the narrative and style of the film. Throughout the film there will be quick cuts to clips from the game, relating what is happening in real life to something in the game. For example, if two bullies are assaulting Ben, there will be a cut showing his in-game character being attacked by orcs. Visually it's very intriguing, and it's also an interesting way of showing how someone with Aspergers will apply their interests to real life. There are a lot of parts to this movie I'm very mixed on, and I still haven't come to my final conclusion of it. At times it feels like it's a pity piece, but then in the final act Ben takes matters into his own hands regarding his abusers in a manner that's actually empowering. However that is only confirmed by a twist that happens in the last 10 seconds of the movie, a twist that to me came off as confused and offensive. It also some times felt a bit too extreme, but at the same time that extremeness helped capture the feeling of helplessness as well as provide a distinct look and feel. The film flies by like a rollercoaster, and in the 90-minute runtime it's virtually impossible to get bored. Still, I'm not really sure I liked it, and there's a big part of me that actually hated it. At the same time, it's a visually fascinating filled with some creative editing and directing, and for the most part it really does manage to give a point-of-view look at the life of someone with Aspergers. It has its faults, and it can be very unpleasant, but I think it's an important film that's worth checking out. Highlights Directed by: Nic Balthazar Screenplay by: Nic Balthazar, adapted from his novel Starring: Greg Timmermans, Laura Verlinden, Marijke Pinoy Pros: A creative and gritty directing style, a usally effective look through the eyes of someone with Aspergers Cons: Some parts go overboard in style or presentation of the material Rated: Not Rated, contains mild language, brief moments of partial male nudity, and intense scenes of bullying Should You See it?: Yes, but don't let it be your only source of knowledge on Aspergers

This was a very cool movie, with a very unexpected ending...which always is a plus for me. I found it very interesting, and unusual..but in a good way.

Ben X cannot effectively read other persons emotions or naturally express his own emotion. He is trapped in his own head by version of Autism called Aspergers syndrome. As the movie portrays there are varying degrees of Asperger in people you meet every day. If you work in a technical field you run into more than your fair share. Greg Timmermas dos a very good interpretation of a person with Aspergers. Unlike most movies that drag with internal dialog this movie need more. The parts of the movie that follow Ben around tend to drag the energy of the movie down. Ben escapes his shell when he enters the gaming arena sitting at his own computer. He has a beautiful companion is a healer. She arranges a meeting in the real world at a train station. He follows her around and never introduces himself. If I went any further it would be a spoiler, but this is were the movie gets strange. Give it a watch.
See Details