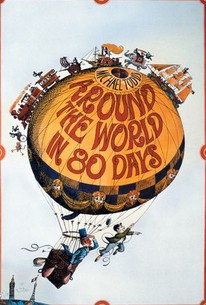 Around the World in 80 Days
1956, Comedy/Drama, 2h 50m
44 Reviews
25,000+ Ratings
What to know
critics consensus
It's undeniably shallow, but its cheerful lack of pretense -- as well as its grand scale and star-stuffed cast -- help make Around the World in 80 Days charmingly light-hearted entertainment. Read critic reviews
Where to watch
Rent/buy
Rent/buy
Subscription
Rent/buy
Rate And Review
Around the World in 80 Days Photos
Movie Info
Victorian-era Englishman Phileas Fogg (David Niven) proclaims before his fellow members of a London gentleman's club that he can circumnavigate the globe in a mere 80 days, further boasting that he will bet the princely sum of 20,000 pounds on the success of his endeavor. With his stalwart manservant Passepartout (Cantinflas) alongside, he goes forth on his adventure, pursued by a dogged Police Inspector (Robert Newton) who suspects Fogg of chicanery.
News & Interviews for Around the World in 80 Days
Audience Reviews for Around the World in 80 Days
The scope of the production, while innovative for the time, no longer covers for the overlong and dull narrative.

Before "Logan's Run", Michael Anderson presented us "Fogg's Run"! This guy might can take only 80 days to make it around the world, but it takes a couple more than that to watch him do so. No, it takes "way" more days than that, because the total time taken up by the Edward R. Murrow-hosted prologue that has the audacity to show footage from [u]another movie[/u] ("A Trip to the Moon", if anyone's vaguely interested), and the animated credits sequence at the end, runs about 80 days, or at least it probably felt like it did at a time when they didn't even have ending credits sequences. Yeah, if you're going to be ambitious enough to employ Saul Bass to make some cartoon for you, even if you just use him at the end of your movie, he's going to need to have his time to shine, so maybe it's a good thing that this film is ultimately over two-and-a-half hours long. There better be something to justify that length, because although this film is plenty adventurous, it isn't exactly the most dramatically sweeping epic to take home Best Picture. I don't know how much depth you can get out of a film that is based on a Jules Verne novel... or features an extensive cartoon sequence by the guy whose other major globe design was for AT&T. Well, at least the film a whole lot of fun, even if it does take its time to work its way down a path that isn't even especially original. The film has refreshing touches, but they just shine a light on the conventional aspects which render the final product predictable, and to make matters all the more aggravating, a lot of the tropes are taken from cheesy formulas. The film is not as corny as I feared it would be, thanks to all of the wit, which can still do only so much to dance around the cornball bits, even within characterization that, even in the context of this fluffy pseudo-fantasy flick, can be a little hard to buy into, limiting engagement value which is further shaken by questionable structuring. As I said, this film is simply too long, with momentum being all but completely lost once the film finds itself running into moments of sheer filler, if not overtly extensive observations of the lavish settings which force a sense of immersion, and dilute a sense of progression, though perhaps not as much as the overdrawn dedication toward each segment of this episodic adventure. I reckon the episodicity is more excusable than the many moments of playing Cantinflas' conceptually secondary lead Passepartout character over David Niven's Phileas Fogg lead, but it's still detrimental to focal consistency in this epic which thrives on its episodic shenanigans, seeing as how it doesn't have much conflict to focus on. This film is plenty well-done, despite the aforementioned issues, so the final product could have rewarded if it wasn't so superficial, even in concept, following an ultimately inconsequential story that doesn't have much value beyond the entertainment sort. It's ultimately natural shortcomings which hold the film back, but they certainly make, say, the lengthiness all the more problematic, driving the underwhelming final product as about as challenging as it is lively. Still, the point is that the film is a lot of fun, even with its superficiality, offering scope, charm and even aesthetic value. Victor Young's Oscar-winning score is far from original, but it's closer to outstanding, with a beautiful whimsy and sweep, not unlike cinematography by Lionel Lindon which is lush and grand in scope, capturing the diverse environments of this adventurous opus beautifully. To be fair, the locations of this film are beautiful by on their own to begin with, as this film explores distinguished culture after distinguished culture, immersing you with its tastes, especially when it enhances the sets with pieces from James W. Sullivan art direction that further capture a sense of dynamicity. Really, the narrative itself is dynamic, not having enough depth or consistency to its layers for an often aimless runtime of around two hours and three quarters to feel justified, but still establishing a lot of potential for range as a cosmopolitan adventure epic. At the very least, there's a potential for entertainment value that is done about as much justice as anything, with director Michael Anderson keeping style and scene structuring tight enough to keep a sense of pacing a whole lot sleeker than the plotting's momentum. Anderson also has a knack for getting across-the-board decent performances, as this cast is full of colorful performances, the most colorful of which being by the leads, with David Niven being charismatic as a visionary and somewhat obsessive adventurer, while Cantinflas, despite having some issues with molding his Mexican accent into a French one, - ...especially during the scenes in which he speaks Spanish - is almost iconically charming as a good-hearted and colorful second-hand adventurer who particularly falls victim to shenanigans. It helps that these leads have plenty of delightful material to work with, because even though James Poe's, John Farrow's and S. J. Perelman's script gets a little excessive and formulaic to be working with such superficial subject matter, it delivers on sharp humor that often rings with moments of hilarity that stand true today, and mark heights in a cleverness that is more recurrently applied to the crafting of dynamic, colorful and altogether memorable set pieces. I've said it time and again, and I once again say that this film is a lot of fun, trying your patience, sure, and not having that much meat to begin with, but still keeping you entertained enough throughout its sprawling course to at least border on rewarding. When the trip is done, among the many tropes in this film is cheesy occasions, while excessiveness leads to unevenness to the episodic telling of a story that isn't even all that meaty to begin with, having enough superficiality to drive the final product shy of rewarding, but not enough to prevent grand scoring and cinematography, immersive locations and art direction, colorful direction and performances, and a thoroughly clever script from securing Michael Anderson's "Around the World in 80 Days" as a thoroughly fun, if somewhat superficial epic. 2.75/5 - Decent

'Around the World in Eighty Days' is a curious disaster. Its lavish production design, expensive sets and celebrity cameos are used to disguise its shallowness, unevenness and dated British humor, but they don't. Maybe in 1956 they did, but not today. It works in small bits, but not as whole. As a side note, one of the most peculiar things about it is how Cantinflas won the Best Actor - Comedy/Musical award at the Golden Globes while the film itself won the Best Motion Picture - Drama award. No one ever brings that up and it just doesn't make a lick of sense.

How this won Best Picture (beating out Giant, Friendly Persuasion, The Ten Commandments, and The King and I, and The Searchers (which wasn't even nominated) is beyond me. This is a big, epic adaptation of the classic Jules Verne story of an archetypical Englishman who makes a bet he can travel across the entire world in only 80 days. As an event, sure, yeah, this was probably quite a fun spectacle to see back in 1956. Today though, this is just an overlong, kinda boring cameo fest with rather blah acting, and little sense of real adventure and excitement. I guess for people who at the time weren't used to seeing exotic places were wowed by what this film offers, but today it's just an unspectacular and dated travelogue. Don't get me wrong, there are some things I liked. The music is decent, if a little repetitive, the end title credit sequence by Saul Bass is really cool, some of the cameos are fun (SInatra, Carradine, Keaton, Dietrich), and Cantinflas is admittedly an absolute scene stealing joyt to watch, but Niven didn't stand out for me as a wonderful lead, and Shirely MacLaine ,though I like her and understood that she did this film near the beginning of her career, really feels out of place. The cinematography is quite excellent though, and the locations do look nice (though idealized), but overall, this is just another one of those Best Picture winners that really didn't deserve it.
See Details