Welcome
(2010)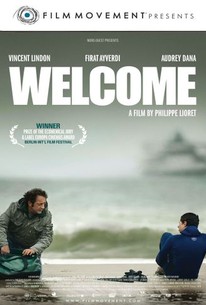 Movie Info
Bilal, a 17-year-old Kurdish boy, has traveled through Middle East and Europe to join his girlfriend, freshly immigrated to England. But, his journey comes to an abrupt end when he is stopped on the French side of the Channel. Having decided to swim across, Bilal goes to the local swimming pool to train. There he meets Simon, a swimming instructor in the midst of a divorce. To impress his wife and win back her heart, Simon decides to risk everything by taking Bilal under his wing.
Critic Reviews for Welcome
Audience Reviews for Welcome
A Kurdish illegal immigrant to France enlists the help of a divorced swimming instructor to aid in his swim across the English Channel to his girlfriend. Ironically titled, Welcome is acting, writing, and directing at its finest. Every little detail in this film has a unique and poignant history, from Bilal's fear of plastic bags to the piece of jewelry Simon finds under the couch cushion. And the scenes last just long enough to make the film's point. There isn't a single wasted moment of connective tissue in this film, combining French cinema's unique penchant for subtlety with universally good storytelling. Vincent Lindon, whose work here and in Mademoiselle Chambon has a soulfulness not often found in other actors, gives a phenomenal performance as Simon, and Firat Ayverdi is very compelling. The film may be an argument for immigration reform in France (and across the world), but it's more about the costs and benefits of compassion and generosity. Simon actions put him in jeopardy, and even though he may be motivated by a desire to reunite with Marion, he comes to understand that being a good person in a cruel world may be its own reward despite the costs. Overall, Welcome is not to be missed, and Lindon is proving to be an exciting force in French film.
Jim Hunter
Super Reviewer
½
At the French port of Calais a group of immigrants from Kurdistan gather to try crossing somehow to England (why, I don't know ... stay in France, why not?) The authorities mass to stop them, of course. And so begins this light tale adrift in the churning waters of immigration. Clichès aplenty, but solid (if implausible) turns by the leads.
Kevin M. Williams
Super Reviewer
A beautifully crafted story. Great actors. A thought provoking look at the issue of immigration, the challenges, the cost to individuals, and the enormous risks that desperate people are willing to take in order to improve their lives. I had no idea that the French government and police are able to wield such repressive power. Subtitles
Cynthia S.
Super Reviewer
Welcome Quotes
| | |
| --- | --- |
| Simon: | He walked 4000 kilometers , wants to swim the canal for a girl . I couldn't even cross the street for you . |
| Simon: | He walked 4000 kilometers. Wants to swim the canal for a girl . I couldn't even cross the street for you . |