Brian's Song
(1970)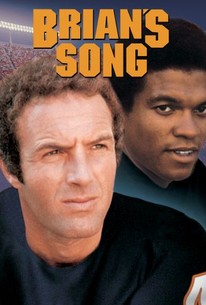 AUDIENCE SCORE
Critic Consensus: Buoyed by standout performances from James Caan and Billy Dee Williams, Brian's Song is a touching tale of friendship whose central relationship transcends its standard sports movie moments.
Movie Info
This football film draws on the memoirs of Chicago Bears' Gale Sayers to depict his friendship with fellow player Brian Piccolo, who lost his life to cancer after a valiant struggle.
News & Interviews for Brian's Song
Critic Reviews for Brian's Song
Audience Reviews for Brian's Song
Good film. Great character portrayals by James Caan and Billy Dee Williams. The chemistry and camaraderie between the two is what makes this film so great. Brian's Song is worth seeing, even if you're not a fan of football.
Stephen Skudlarek
Super Reviewer
Oh, How Melo-Drama was enjoyable in the 70's! Now a days, You can't even last a minute with a movie like that. In Brian's song Case, I lasted the whole film, enjoying moderate parts of it. Also, no matter How much, i love football, i do not shed tears, only Old Yeller, can get that close.
Joseph Eastmond
Super Reviewer
½
If you thought this was a bit sappy in 1970 you should watch it again. The thing practically oozes with overt sentimentality. Still, it's an indelible childhood memory for men of my generation and an almost iconic piece of '70s Americana. ...and yes, it still makes me cry (dammit).
Randy Tippy
Super Reviewer
Brian's Song Quotes
| | |
| --- | --- |
| Brian Piccolo: | So, Concannon calls this trap play, and it's just beautiful... 43 yards, wasn't it 43? Ah. So, Halas sees he's tired, and sends me in, so I go in, he comes out. Concannon then figures he's gonna get REALLY foxy... you know, Concannon is... So, he says, "Um, same play. VERY SAME PLAY." Now, a trap play is also called, a SUCKER play, because it makes the defense look REAL bad when it works. Now, defenses DO NOT like to look real bad, see... it makes 'em kinda surly... So, anyway, all the linemen go this way, and it's like I am lookin' at a team portrait of the Los Angeles Rams! "Hey, Deacon! Merlin! How's the family, Rosey?" |
| Brian Piccolo: | So, Concannon calls this trap play, and it's just beautiful... 43 yards, wasn't it 43? Ah. So, Halas sees he's tired, and sends me in, so I go in, he comes out. Concannon then figures he's gonna get REALLY foxy... you know, Concannon is... So, he says, 'Um, same play. VERY SAME PLAY.' Now, a trap play is also called, a SUCKER play, because it makes the defense look REAL bad when it works. Now, defenses DO NOT like to look real bad, see... it makes 'em kinda surly... So, anyway, all the linemen go this way, and it's like I am lookin' at a team portrait of the Los Angeles Rams! 'Hey, Deacon! Merlin! How's the family, Rosey?' |
| | |
| --- | --- |
| Brian Piccolo: | Well, on uh, Fake Draw Screen Right I uh, pick up the linebacker if he's comin, 'less of course it's Butkus, then I simply notify the quarterback to send for a preacher. |
| | |
| --- | --- |
| Brian Piccolo: | I said thank you. |
| Gale Sayers: | I know. |
| Brian Piccolo: | Well, usually when someone says thank you you're supposed to say you're welcome or How's Your mother? |
| Gale Sayers: | How's your mother? |
| Brian Piccolo: | She's doin' fine, thanks for asking. |
| | |
| --- | --- |
| Speaker: | Ernest Hemingway once said "Every true story ends in death." Well, this is a true story. |
| Speaker: | Ernest Hemingway once said 'Every true story ends in death.' Well, this is a true story. |