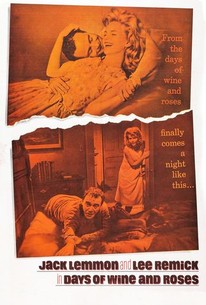 Days of Wine and Roses
1962, Drama, 1h 57m
14 Reviews
2,500+ Ratings
Where to watch Days of Wine and Roses
Rent/buy
Rent/buy
Rent/buy
Rent Days of Wine and Roses on Apple TV, Amazon Prime Video, Vudu, or buy it on Apple TV, Amazon Prime Video, Vudu.
Rate And Review
Days of Wine and Roses videos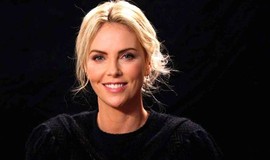 Charlize Theron's Five Favorite Films
1:07
Days of Wine and Roses Photos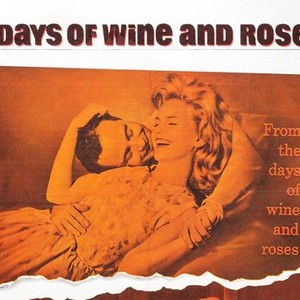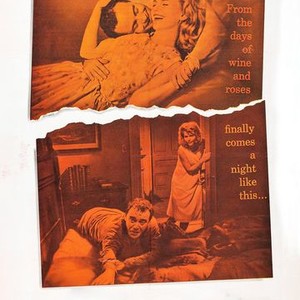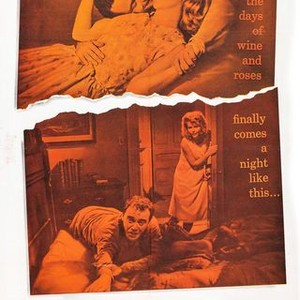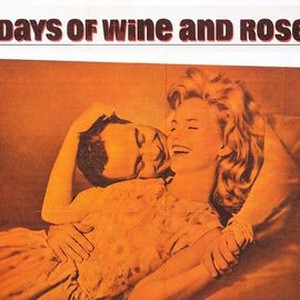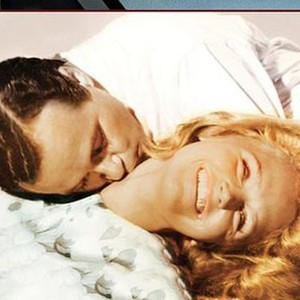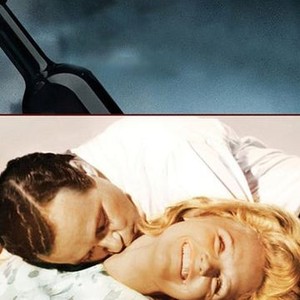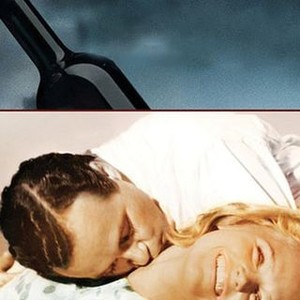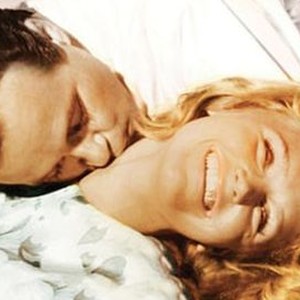 Days of Wine and Roses (1962)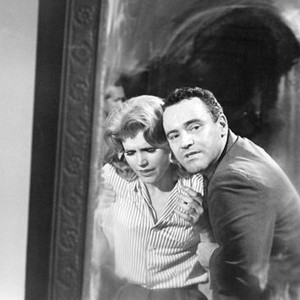 Days of Wine and Roses (1962)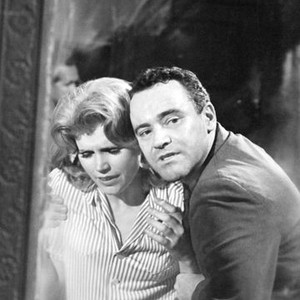 Days of Wine and Roses (1962)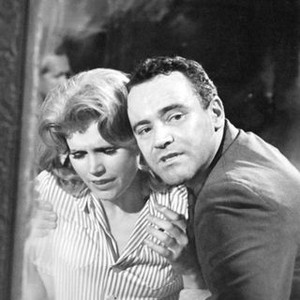 Days of Wine and Roses (1962)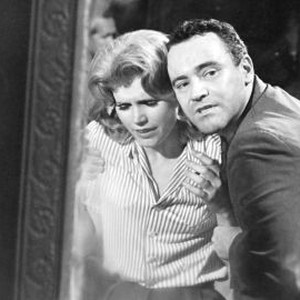 Days of Wine and Roses (1962)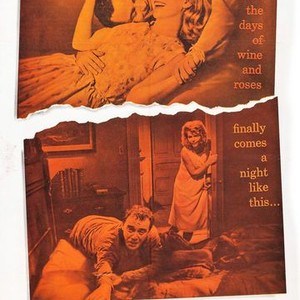 Days of Wine and Roses (1962)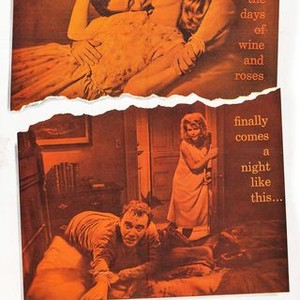 Movie Info
Joe Clay (Jack Lemmon) is a rising young public relations executive when he meets Kirsten Arnesen (Lee Remick), a pretty secretary, at a business party. Joe and Kirsten are both ambitious, and they are on the road to success when they fall in love and marry. Soon after, however, Joe coaxes Kirsten to begin drinking with him on a regular basis. Eventually, they are both dependent on alcohol. Their marriage deteriorates, and their lives spiral into disaster, as a result.
Genre: Drama

Original Language: English

Director: Blake Edwards

Producer: Martin Manulis

Writer: J.P. Miller

Release Date (Theaters): original

Release Date (Streaming):

Runtime:

Distributor: Warner Bros.

Production Co: Warner Brothers, Jalem Productions
Audience Reviews for Days of Wine and Roses
<i>"They are not long, the days of wine and roses: Out of a misty dream Our path emerges for a while, then closes Within a dream.</i> - Ernest Dowson, from "Vitae Summa Brevis" (1896). A screwball comedy in the first act, a jazzy account of addictive self-destruction in the second act, and a thought-provoking melodrama in the third act... It is somewhat justifiable that the world got extremely excited with a phenomenon like <i>Dr. No</i>, got disturbed by the claustrophobic dementia of <i>What Ever Happened to Baby Jane?</i> and the Academy got touchy with a meaningful social commentary against racism and intolerance featured in <i>To Kill a Mockingbird</i>, but hidden beneath the shadows of major box office achievements, a superior testament of the power of love and family struggling against one of the most impactful sicknesses in modern society, alcoholism, was released in exactly the same year. Since <i>The Lost Weekend</i> (1945), not a single film had treated alcoholism from the correct point of view: it is a sickness. It is easier to conceive it as an addiction, because everybody coins that term. The implications of "sickness", however, is much more complex, because it involves a process that begins with the self-acceptance of being sick. However, this is the first film, perhaps in the history of film (correct me if I am wrong and I'll edit it) that develops the entire recovery process of such addiction, not to say it masterfully handles melodrama with a powerful and convincing effect. Blake Edwards almost perfectly mirrored the plot structure as a film process with the process of recovery from alcoholism. Featuring two powerhouse performances by Jack Lemmon, the outgoing adman of Public Relations, and Lee Remick, his wife who is brought down by his husband to "a boat in the middle of a sea of booze, which sank", this account is utter success. The relationship featured is that of self-destruction as both <b>willingly</b> agree to invite a third party to their threesome, a matter that becomes even more complicated given that, afterwards, they have a child, which starts to grow with a serious lack of parental care. I am justifying the full rating for this film because of its versatility and its striking honesty in the depiction of its two main protagonists. It has that peculiar, overwhelming effect that effective melodramas have: 30 minutes before the movie ends, if you start remember the previous 90 minutes, you get nostalgic and it is the easiest thing to cry, because you care about the characters. You care because you feel their pain. You feel their pain because they are relatable. They are relatable because they feel human. This is the point in which the performances come in. Featuring interesting cinematography that accentuates the disturbing aura of the madness caused by such pervasive sickness, and a conclusion that made audiences walk out of the theater basically rethinking their current state, <i>Days of Wine and Roses</i> is an unusually versatile classic jewel from the U.S. which seems to be simultaneously trying to nostalgically embrace the feeling of a Hollywood classic from the Golden Age while facing the days of the American counter-culture that was rising in the Technicolor horizon. 98/100

A gorgeously laid out tale of two alcoholics meandering through life. One is able to stop the bleeding (drinking) but the partner is not as strong creating a fine tension between Lemmon and Remick. It's authenticity is what makes it.

An alcoholic and his wife struggle to give up the drink. This classic film brims with authenticity primarily because of the performances by Jack Lemmon and Lee Remick. Though he has a few comic moments and scenes in which his character's drunkenness allows him to use comedic physical work, Lemmon creates scenes of moving verisimilitude as Joe Clay. He's at times charming and at others thoroughly tortured. Remick, likewise, is completely lost in the world of alcohol, and her drunken moments are absolutely believable, rarely descending into caricature. The film is superbly constructed, disposing of all the connective tissue and leaving us with only the elements necessary to tell the story. Blake Edwards's direction is pitch-perfect. During the second act, there are a few scenes that seem like a public service announcement for AA. As a drunkard, not an alcoholic, I don't know if all AA meetings begin with the convener reading the organization's list of principles, but regardless, this section seemed false to me. Overall, <i>The Days of Wine and Roses</i> is a fantastic, moving drama about the ravages of alcoholism that stands as one of Jack Lemmon's finest performances.

This film has two things going for it: Lemmon's wonderful acting and Edward's camera work. Other than that the film does not earn the emotion that it is attempting to generate. The audience is taken through the developing relationship and subsequent alcohol drenched years at such a brisk pace that it is really hard to get a feel for these characters. What should be a gripping masterwork regarding addiction feels more like a really well acted commercial for AA. Taking into account how groundbreaking this film must have been upon it's release in 1962, I cannot say the film is a bad. It just hasn't aged well.
See Details