The Far Country
(1955)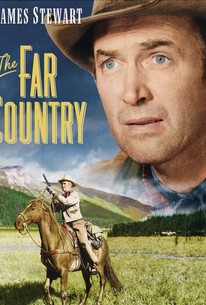 Movie Info
One of the most entertaining of the Western movies to come out of the 1950s, this is a Stewart vehicle in which he must take on the ruthlessness of the frontier. Set in the Yukon, Stewart and his friends are driving cattle to market from Wyoming to Canada, where the boom towns pay top dollar for beef. When they arrive in Skagway, the corrupt sheriff of the town (John McIntire) steals the cattle and Stewart et al are forced to fight for their herd. Together with the female saloon keeper of another town (Ruth Roman), they find themselves up against an evil they were not prepared for. When Stewart's friend (portrayed by Walter Brennan) is killed, he is forced to go up against the evil sheriff. Good versus evil in incredible Yukon settings makes this an above average Western.
Critic Reviews for The Far Country
Audience Reviews for The Far Country
½
Almost a mirror film to Winchester '73, with the same writer, director, star, and style, this one involves the same old same old about the smoothy crook dishonestly making a land grab off of the honest hardworking pioneer types. Stewart decides to even the deal out in this predictable, but fun, fable.
Kevin M. Williams
Super Reviewer
½
Starts promisingly but peters out into routineness by it's end.
½
Jimmy Stewart is a likable 'antihero' in this oddly written but beautifully shot western adventure. A must-see for fans of Walter Brennan (like me). *Interesting bit of trivia: "One of James Stewart's favorite stories of his film career concerned his horse, Pie, a sorrel stallion whom Stewart called, "One of the best co-stars I ever had." Pie appeared as Stewart's horse in 17 Westerns, and the actor developed a strong personal bond with the horse. Pie was very intelligent, Stewart recalled, and would often "act for the cameras when they were rolling. He was a ham of a horse." When shooting the climax of "The Far Country," the script called for Stewart's horse to walk down a dark street alone, with no rider in the saddle, to fool the bad guys who were waiting to ambush Stewart. Assistant Director John Sherwood asked Stewart if Pie would be able to do the scene. Stewart replied, "I'll talk to him." Just before the cameras rolled, Stewart took Pie aside and whispered to the horse for several minutes, giving him instructions for the scene. When Stewart let the horse go, Pie walked perfectly down the middle of the street, doing the scene in one take. When Pie died in 1970, Stewart arranged to have the horse buried at his California ranch." -IMDb.com
Randy Tippy
Super Reviewer
The Far Country Quotes
There are no approved quotes yet for this movie.