Fast Food
(1989)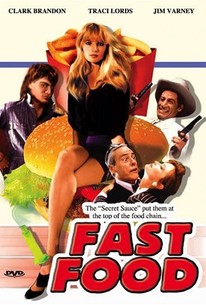 AUDIENCE SCORE
Critic Consensus: No consensus yet.
Movie Info
Two wacky guys find both romance and fortune in the hamburger business in this comedy. Augie (Clark Brandon) and Drew (Randal Patrick) are a pair of longtime students at Hopkins University who've been making a living by pulling one semi-legal scam after another for years, but one day the dean (J. Don Ferguson) decides he's had enough of their antics and gets rid of them the best way he knows how -- he graduates them. Forced into the real world, the guys are looking for something resembling a career when Augie gets surprising news. His cousin Samantha (Tracy Griffith) runs a gas station where he works part time, but she's considering selling the place to Wrangler Bob Bundy (Jim Varney), the owner of a local burger chain who is convinced the gas station would be the perfect location for a new franchise. Drew figures if the place would be the right spot for a burger joint, they should open one themselves, and eventually Augie and Drew persuade Samantha to go along with the idea. The business gets off to a slow start, but things pick up when Drew's buddy Calvin (Lanny Horn) cooks up a special sauce for the burgers which has aphrodisiacal side effects. Wrangler Bob isn't about to give up without a fight, though, and hires corporate spy Dixie Love (Traci Lords) to get the inside scoop on the burger stand's sudden popularity. Fast Food also stars Kevin McCarthy, Michael J. Pollard, and Pamela Springsteen (Bruce's younger sister).
Critic Reviews for Fast Food
There are no critic reviews yet for Fast Food. Keep checking Rotten Tomatoes for updates!
Audience Reviews for Fast Food
The reason I bought the DVD was to see Jim Varney, but when I looked at the cover, I didn't think I was going to really like it. But, I found myself liking it after all. Wrangler Bob Bundy(Varney) was a very serious and mean guy and I instantly pegged him to be that way throughout the entire movie. So I felt it was safe to drink my soda.(It was Varney, I should've known better). But, just as I had a mouthful of soda, they went to a scene with Wrangler Bob Bundy riding one of those coin horses. It completely caught me off guard and I ended up with soda in my nose. Only Varney, who was 40 at the time, could pull off something like that. The film also has Blake Clark, one of Varney's friends who later voiced Slinky in Toy Story 3 as a tribute to Jim. All I have to say is, "The secret is in the sauce."
Stacy Avary
Super Reviewer
Classic 80s movie with adorable Clark Brandon & Tracy Griffiths. I enjoyed this movie a lot about your best friends being your family at the end of the day :)
Cassie Hill
Super Reviewer
Fast Food Quotes
There are no approved quotes yet for this movie.