100 Bloody Acres
(2013)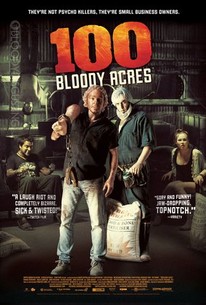 Movie Info
In 100 BLOODY ACRES, brothers Reg and Lindsay Morgan are struggling to keep their organic blood and bone fertilizer business in motion. Their secret "recipe" for success (using dead car crash victims in their product) was a huge boon to business, but lately supply has been gravely low. Months have passed since their last find, and an important new customer is now waiting on a delivery. When junior partner Reg (Damon Herriman of Justified) stumbles upon 3 travelers stranded on a remote country road, he cooks up a radical solution to their problem, and a way of finally gaining the respect of his bossy big brother (Angus Sampson). But when Reg starts to fall for Sophie, one of the intended victims, things get complicated... A bloody good time, the Cairnes' brothers witty horror-comedy blends sly Australian humor, gory fun, and a clever storyline that gives "recycling" a whole new context. (c) Doppelgänger Releasing
News & Interviews for 100 Bloody Acres
Critic Reviews for 100 Bloody Acres
Audience Reviews for 100 Bloody Acres
½
I don't really have an idea of whether to give the film 2.5 or 3 stars. I did like the gore, there's some good moments of dark comedy, and the cast is perfectly solid. I did have some problems with the pacing of the film, I think it takes forever until it really gets going and even when it DOES get going, there's not really much it does to keep you intrigued. Perhaps intrigued is the wrong word, because I was interested in seeing where the film was going, It's just that it's a little slow in getting there. And this film isn't really that long to begin with, so that's certainly a problem I had with the film. The script is solid, full of plenty comedic moments and Reg's arc finally overcoming the abuse he's sustained from Lindsay since he was a kid was pretty good, if unimpressive. The film has some funny moments, for example when James and Sophie are arguing about Sophie's affair with Wes as James is tied up and has a tape over his mouth. It doesn't read that well, but it works well in execution. There are also some pretty gross moments involving cunnilingus with a 70+ year old woman. Out of all the gore, the blood, and the violence...the film's grossest moment is, by far, cunnilingus with a very old female. This definitely has its moments, but I think its slow pacing, which sometimes has a lot to do with your enjoyment of the film, keeps this film from reaching its full potential. Maybe if this was shorter, and this is short as it is, and the pacing was a little faster, then this film would've been much better. Despite the rating, I did have fun watching this film but I found it to be average at best. There's enough good stuff in here to make it worth watching and to keep your eyes on the directors that made this film, because they're already talented, it's just that their first feature film doesn't reach its full potential.
Jesse Ortega
Super Reviewer
This Aussie romp about inept murder-brothers (played by Angus Sampson [above right] and Damon Herriman [The Square, House of Wax, Justified]) exemplifies what a horror-comedy should be. The quips are laugh-out-loud worthy, the physical humour is never absurd or bad enough to take you out of the moment, the premise is original enough, the reference humour is played well and doesn't get in your face (which I truly appreciate, and makes for the much better laugh), it's just haphazard enough to feel roller-coster-y without feeling disjointed, from a formulaic standpoint it stands heads and shoulders above most other films of the genre. Unfortunately, this is about all that 100 Bloody Acres can really say for itself. It's true there's virtually nothing bad about it, but nothing stands out about beyond this either. It's a solid film, a recommendable one even, but there's no real staying factor here, and I fear its value will slip with the passing of time, which is unfortunate for such a rare bit of perfectly-toeing-the-line horror/comedy. 68% -Gimly
100 Bloody Acres Quotes
| | |
| --- | --- |
| Lindsay: | ...and that is a Morgan brothers guarantee! |
| | |
| --- | --- |
| Reg Morgan: | We're not psychos. We're small business operators. |
Discussion Forum
Discuss 100 Bloody Acres on our Movie forum!