The Miracle Worker
(1962)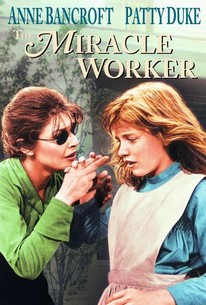 The Miracle Worker Photos
Movie Info
Arthur Penn directed this powerful film version of William Gibson's play about the adolescent Helen Keller, a deaf-mute sealed off from society in her own world, and Annie Sullivan, the teacher who works with Helen to teach her how to communicate with others. Originally presented on television in 1957, the story was transferred to the Broadway stage and became a major success, starring Patty Duke as Helen Keller and Anne Bancroft as Annie Sullivan. Duke and Bancroft re-created their stage roles for this film version, earning them both Academy Awards. Helen Keller is first seen in her Tuscumbia, Alabama home, groping around in her own silent world. Annie Sullivan comes to Tuscumbia to teach Helen to communicate through sign language. Annie immediately sees the main hurdle is to keeping Helen away from her overly loving mother Kate (Inga Swenson) and imperious father (Victor Jory). The parents agree to allow Annie to stay with Helen alone for a few weeks at a small building on Captain Keller's property. Confined together, Annie manages to teach Helen how to dress herself and to recite the alphabet by touch. But Annie hits a stone wall when she tries to get Helen to understand the connection between the alphabet and what the letters represent. The Kellers now take Helen back home and she rapidly slips back into her old patterns. But one night at the dinner table, Helen knocks over the water pitcher and Annie forcibly drags Helen outside to the water pump to refill the pitcher. It is there that a transcendent revelation occurs for Helen.
News & Interviews for The Miracle Worker
Critic Reviews for The Miracle Worker
Audience Reviews for The Miracle Worker
½
Even with a slight tendency towards melodrama, this is a wonderful film that impresses with a gorgeous cinematography, beautiful direction (the mise-en-scène is exceptional), two superb Oscar-winning performances and an incredible 8-minute fight to "housebreak" a feral child.
Carlos Magalhães
Super Reviewer
Terrific scrrenplay, just like Penn's direction, The Miracle Worker (1962) presents outstanding actings by the main actress and that enrich more the film. Fresh.
Lucas Martins
Super Reviewer
Intense from the get-go, in both style and acting; still cinematographically modern in a lot of ways and dominated by a fiery performance by Anne Bancroft. It struck me as unusual for a film of its era to start SO in media res, with the stakes already so high and the parents already so distraught, but it's for the better. Stark and powerful, even if it slows into a somewhat repetitive groove after a while. Definitely see it once, it's a classic, winner of Best Actress and Best Supporting Actress Oscars... given that it's largely a two-hander of a script, it kind of makes you wonder how it wasn't nominated for Best Picture, too, but 1962 was a deep year... Lawrence of Arabia (winner), To Kill a Mockingbird, Mutiny on the Bounty, The Music Man and The Longest Day got that nomination, which means that other great films like The Manchurian Candidate, Days of Wine and Roses, Long Day's Journey Into Night and Birdman of Alcatraz also didn't get the nod. There's one argument in favour of the return to (up to) 10 nominees for the big prize! I digress, though; The Miracle Worker is a fine film and may well have cast the die for future "inspirational caregiver, teacher, etc." films.
Daniel Perry
Super Reviewer
The Miracle Worker Quotes
There are no approved quotes yet for this movie.