Night of the Living Dead
(1968)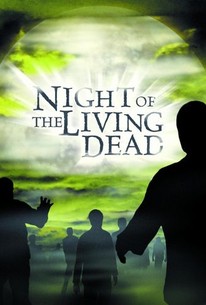 TOMATOMETER
AUDIENCE SCORE
Critic Consensus: George A. Romero's debut set the template for the zombie film, and features tight editing, realistic gore, and a sly political undercurrent.
Night of the Living Dead Photos
Movie Info
A group of people hide from bloodthirsty zombies in a farmhouse.
News & Interviews for Night of the Living Dead
Critic Reviews for Night of the Living Dead
Audience Reviews for Night of the Living Dead
Romero's first film - and his first zombie movie - is creepy, gory and realistic, with an extremely disturbing atmosphere, an incredibly sharp sociopolitical commentary and a terrifying ending, even though the acting is not that good and the plot feels a bit repetitive.
Carlos Magalhães
Super Reviewer
A family, a man, and a woman hold up in a farmhouse as they try to survive an attack of zombies. I should forgive this 1968 classic for its poor special effects, its misogyny, its predictable character types, it plot holes, its overwrought performances, and its lack of any ethical raison d'etre. But I don't. The female characters are all useless fools, and why doesn't the old lady in the attic ever wake up and attack the group of survivors? If the dead are walking and she's dead, why isn't she walking? Was her brain damaged? If so, that wasn't clear. Overall, while it's a horror classic, there have been improvements on this genre that have made it archaic.
Jim Hunter
Super Reviewer
With some visually impressive images for it's time, and being one of the first films to have a boarded up home, fighting zombies away, "Night of the Living Dead," to me, was the spark of the genre. So many good films have come from this genre, and even dating all the way back to this picture, it's terrific entertainment. Although it becomes a tad slow at times, it still manages to hold your attention well and send chills down your spine with it's practical effects. The acting is solid for it's time and the story is well played out, but the most commendable thing about this film is it's direction. George A. Romero truly knows how to handle his actors, and each zombie does not feel out of place. All around, it's a great film, albeit simple. "Night of the Living Dead" sets a bright future for this filmmaker!
Night of the Living Dead Quotes
| | |
| --- | --- |
| Johnny: | They're coming to get you Barbara. |
| | |
| --- | --- |
| Johnny: | They're coming to get you Barbara. |
| | |
| --- | --- |
| Ben: | I ought to drag you out there and FEED you to those things! |
| | |
| --- | --- |
| Newscaster: | It has been established that persons who have recently died have been returning to life and committing acts of murder. A widespread investigation of funeral homes, morgues, and hospitals has concluded that the unburied dead have been returning to life and seeking human victims. It's hard for us here to be reporting this to you, but it does seem to be a fact. |