On the Beach
(1959)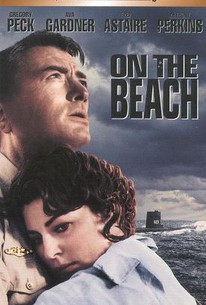 Movie Info
Although there'd been doomsday dramas before it, Stanley Kramer's On the Beach was considered the first important entry in this genre when originally released in 1959. Based on the novel by Nevil Shute, the film is set in the future (1964) when virtually all life on earth has been exterminated by the radioactive residue of a nuclear holocaust. Only Australia has been spared, but it's only a matter of time before everyone Down Under also succumbs to radiation poisoning. With only a short time left on earth, the Australian population reacts in different ways: some go on a nonstop binge of revelry, while others eagerly consume the suicide pills being issued by the government. When the possibility arises that rains have washed the atmosphere clean in the Northern hemisphere, a submarine commander (Gregory Peck) and his men head to San Diego, where faint radio signals have been emanating. The movie's all-star cast includes: Peck as the stalwart sub captain, Ava Gardner as his emotionally disturbed lover, Fred Astaire as a guilt-wracked nuclear scientist, and Anthony Perkins and Donna Anderson as the just starting out in life married couple.~ Hal Erickson, All Movie Guide
Critic Reviews for On the Beach
Audience Reviews for On the Beach
Most certainly my fav Kramer film, this almost forgotten cautionary tale of the last days of suicidal humanity has its drawbacks ... but that might sum up humanity, no? Overall, the spirit to find the best of us while fully submerged in the worst drives this tale that looks at the ragtag few remaining survivors facing certain extinction at the end of the world. Peck et al lend undeserved honor to the race and Fred Astaire proves he didn't only need to be dancing to be worth attention. Ernest Gold's score, variations on "Waltzin' Matilda", will leave you soaked in an bittersweet Australian stew for days to come. Have plenty of Coopers Pale Ale on hand.
Kevin M. Williams
Super Reviewer
A spooky Cold War classic about those MAD years, when the complete ruination of the world through nuclear war seemed a real possibility. Once again, Gregory Peck carries a film with his performance - I'm starting to think he's one of the all-time best - and it's the humanity of these characters and their attempt to retain hope when all seems lost. It's a pushing to the extreme of a feeling in that was in the air at the time, but it also seems unfortunately easy to relate to. An important and uncomfortable film to see.
Daniel Perry
Super Reviewer
This movie has a lot of stars, and it's a pretty intense drama, I liked it.
On the Beach Quotes
| | |
| --- | --- |
| Peter Holmes: | By the way, I invited Captain Towers for the weekend. |
| Mary Holmes: | Oh Peter you didn't. |
| Peter Holmes: | I had to really, we had lunch together and he started asking questions about how we lived and all. Mary I'd have looked an awful clod not to have asked him. He'll be alright I think. |
| Peter Holmes: | I had to really, we had lunch together and he started asking questions about how we lived and all. Mary, I'd have looked an awful clod not to have asked him. He'll be alright I think. |
| Mary Holmes: | Was he married do you know? |
| Peter Holmes: | Two kids. |