Spellbound
(1945)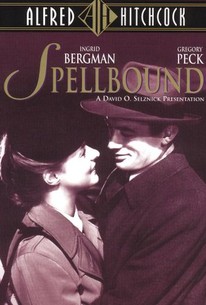 Movie Info
A psychoanalyst falls in love with her new boss, and it is soon discovered that he has difficulty with remembering things as he is a troubled amnesiac--who may also be a killer.
Critic Reviews for Spellbound
Audience Reviews for Spellbound
½
A poorly-written film that deserves more credit for a surreal dream sequence designed by Salvador Dalí than a dated plot full of holes and casual sexism - especially how, for someone who is supposed to be so rational, Bergman's character is more stupid than our patience can take.
Carlos Magalhães
Super Reviewer
Dr. Alex Brulov: What is there for you to see? We both know that the mind of a woman in love is operating on the lowest level of the intellect! "Will he Kiss me or Kill me?" Spellbound is just another good thriller from the master of suspense, Alfred Hitchcock. This isn't one of his best movies by any means, it isn't Vertigo, Rear Window or Psycho. What it is, though, is a thoroughly interesting, engaging and suspenseful thriller. A new director is arriving at a mental asylum where he will begin his new job, replacing a man that has been there for 20 years. When he does arrive, the rest of the staff is baffled by his young age. The man also is showing signs of mental distress and lack of knowledge about his job. Anymore knowledge on the film would just take away from it. There's a lot of great art direction going on in Spellbound. There are some masterfully constructed and original scenes, the least of which, not being Salvador Dali's designed dream sequence. This Hitchcock classic is a fun ride and features all the elements of a Hitchcock film that make them so great. Obviously this is one you should see.
Melvin White
Super Reviewer
The Dali dream sequence was genius! Ingrid Bergman as a cold psychiatrist was perfect as well as a confused Gregory Peck. A story that never fully reveals itself until the last minutes, Spellbound is a film that takes commitment but is a psychological classic.
Spellbound Quotes
| | |
| --- | --- |
| Dr. Alex Brulov: | Women make the best pyschoanalysts, until they fall in love. After that they make the best patients. |
| | |
| --- | --- |
| Dr. Anthony Edwardes: | Oh, by the way - why are we going to Rockester for? |
| Dr. Constance Peterson: | Well we're going to visit Dr. Brulov. |
| Dr. Anthony Edwardes: | Oh oh oh, that's the gut who doesn't like sore-spotters |
| Dr. Constance Peterson: | He was my analyst and psycho-analyzed me. |
| Dr. Anthony Edwardes: | Really, and what was wrong with you? |
| Dr. Constance Peterson: | oh all analysts get psycho-analyze by other analysts, before they start practicing. |
| Dr. Anthony Edwardes: | Ohh; that's to make sure that they are not too crazy. |
| Dr. Constance Peterson: | Apparently the mind is never to sick to make jokes ABOUT psycho-analysis. |
| Dr. Anthony Edwardes: | I'm sorry. I'm a pig. |