The Hunchback of Notre Dame
(1996)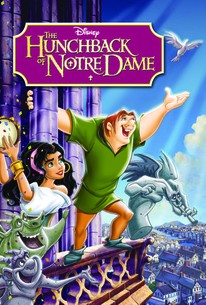 TOMATOMETER
AUDIENCE SCORE
Critic Consensus: Disney's take on the Victor Hugo classic is dramatically uneven, but its strong visuals, dark themes, and message of tolerance make for a more-sophisticated-than-average children's film.
The Hunchback of Notre Dame Photos
Movie Info
After the critical and commercial success of The Little Mermaid, Beauty and the Beast and The Lion King, the Walt Disney Pictures animation studio embarked on their most serious and ambitious animated feature to date with this adaptation of Victor Hugo's classic novel Notre Dame de Paris. Quasimodo (voice of Tom Hulce) is a grotesquely deformed but kind-hearted young man who was abandoned by his parents as an infant and thrown down a well; he was rescued by the priests of Notre Dame, the massive cathedral in the heart of Paris, and he lives there, earning his keep as a bell ringer. Quasimodo has become the ward of Judge Frollo (voice of Tony Jay), an outwardly pious but deeply hateful man who treats Quasimodio with indifference and violently loathes the Gypsies who spend their days in the cathedral's courtyard. Frollo hopes to clear the Gypsies out of Paris with the help of Phoebus (voice of Kevin Kline), leader of the troops under Frollo's command. However, Phoebus does not share Frollo's racist views and harbors no ill will against the Gypsies. When Quasimodo is crowned King of the Fools after leaving Notre Dame during the annual festival of Topsy Turvy Day, the hunchback is ordered beaten by the guards as punishment, but Esmerelda (voice of Demi Moore), a hot-blooded but compassionate gypsy beauty, shows pity on him and helps free him from his chains. The lovely Esmerelda is the first woman to show kindness to the unfortunate Quasimodo, and the hunchback soon falls in love with her. However, the dashing Phoebus is also infatuated with her, and Esmerelda is attracted to Phoebus as well, though she feels a motherly affection for the hunchback. Judge Frollo finds that he also desires Esmerelda, which only inflames his hatred for the Gypsies when she refuses his proposals. Darker and less outwardly comic than most of Disney's features, The Hunchback of Notre Dame does feature comic relief in the form of Victor (voice of Charles Kimbrough) and Hugo (voice of Jason Alexander), a pair of gargoyles who befriend Quasimodo, as well as several songs from Alan Menken and Stephen Schwartz. ~ Mark Deming, Rovi
People Who Like this movie also like
News & Interviews for The Hunchback of Notre Dame
Critic Reviews for The Hunchback of Notre Dame
Audience Reviews for The Hunchback of Notre Dame
½
The heavy changes in the original story, like its inevitable softening to be more palatable for children, may displease some, but still it tackles serious themes with a lot of wonderful songs and spectacular visuals, among the best that Disney has ever put on screen.
Carlos Magalhães
Super Reviewer
½
One of Disney's boldest and darkest animated films (there certainly hasn't been anything like it since), "The Hunchback of Notre Dame" is surprising in both the level of thematic substance and the detail in the animation. It tries to juggle the sophisticated Victor Hugo plot with Disney conventions to far less success (those gargoyles are less comic relief and more an annoying tonal inconsistency), but like its protagonist, this film goes largely hidden within Disney's sparkling legacy -- and that's a shame.
Sam Barnett
Super Reviewer
The film has its glaring flaws. I could do without the childish gargoyles (obvious pandering to kids) and without the lazy and annoying puns that are scattered about the screenplay. However, despite these barriers towards the film's potential of being a true masterpiece, it is undeniable what dark issues this animated film remarkably addresses. In terms of quality it is a mixed bag, but it is impossible not to be moved by its powerful message. All in all, The Hunchback should be recognized as having some of the most brilliant and most beautiful scenes ever to have been done in animation (i.e. the fantastic opening, "Out There," and the Hellfire scene). It should also be noted that while the film fails at creating likable comic reliefs (the gargoyles are, once again, unbearable), it succeeds at intertwining this underlying theme of damnation and hellfire throughout its stunning music, visuals, and storyline. Pretty advanced for a kid's movie, don't you think? If we could crawl into a time machine and redo this film, taking out the gargoyles and taking out the silly jokes, it might be one of the greatest animated films of all time. But we can't. Instead, let us marvel at the masterpieces within the film and wonder what it would be like to watch a fully consistent, fully brilliant, fully awe-inspiring Hunchback, as opposed to a mix of brilliance and childish humor. The ultimate problem with the Hunchback is that one has to get past the childishness to appreciate the brilliance underneath.
Matthew Samuel Mirliani
Super Reviewer
The Hunchback of Notre Dame Quotes
| | |
| --- | --- |
| Frollo: | Bring these Gypsy vermin to the Palace of Justice. |
| | |
| --- | --- |
| Esmeralda: | What are you doing? |
| Frollo: | I was just imagining a rope around your neck |
| Frollo: | I was just imagining a rope around your neck. |
| Esmeralda: | I know what you were imagining! |
| | |
| --- | --- |
| Archdeacon: | See, there, the innocent blood you have spilt on the steps of Notre Dame. |
| Frollo: | I am guiltless. She ran, I pursued. |
| Archdeacon: | Now you would add this child's blood to your guilt on the steps of Notre Dame! |