The Love Letter
(1998)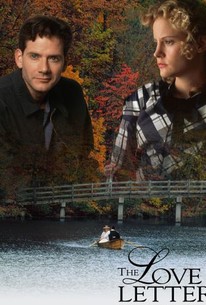 AUDIENCE SCORE
Critic Consensus: No consensus yet.
Movie Info
In this romantic fantasy based on the short story by Jack Finney, Scotty Corrigan (Campbell Scott) is a young man who is engaged to be married, but is having second thoughts about his upcoming wedding. Scotty buys an antique desk and -- hidden in a secret compartment -- he finds a letter from a woman named Elizabeth Whitcomb (Jennifer Jason Leigh), who lived during the 19th century. Fascinated by the letter, Scotty writes her a reply, using antique writing materials, and is shocked when he receives a reply -- somehow he's been able to communicate with her through time, and they begin a correspondence that spans a century and a half. It turns out that Elizabeth is also pledged to marry, but she does not love her fiancée, and a romance begins to blossom through the mail and across time. The Love Letter was produced for the television anthology series The Hallmark Hall of Fame.
Critic Reviews for The Love Letter
There are no critic reviews yet for The Love Letter. Keep checking Rotten Tomatoes for updates!
Audience Reviews for The Love Letter
Charming and unusual romantic fantasy SF writer Jack Finney has been largely, and unjustly, forgotten by the general reading public. His name is well known to film trivia buffs as the author of the novel on which the 1956 Don Siegal cult film Invasion of the Body Snatchers (and several remakes) was based, and fans of Science Fiction/Fantasy will know that he also was one of the few authors in the genre who achieved commercial success publishing in mainstream magazines like The Saturday Evening Post. His classic time travel novel Time and Again, and its sequel, From Time to Time, are still well worth reading. Finney's work is basically fantasy with science overtones, often as a framework for conventional but well done boy-meets-girl romance stories; they are sometimes sentimental, but the sentiment is so innocently conveyed that it is charming rather than cloying. This description also applies to The Love Letter, a TV-film version of one of Finney's classic short stories. The premise is simple: a young man in late 20th century Boston buys an antique desk originally owned by a young woman in a nearby town in the mid-19th century, and finds a letter she has written to an imaginary lover in a secret compartment. He finds a way to answer the letter, and in the ensuing correspondence, the two fall in love. Despite the obviously impossibility of such a relationship, the film manages to achieve a sort of happy ending. Though this film is technically science fantasy, the time travel aspect is achieved almost totally through the juxtaposition of realistic scenes from the two eras, with virtually no special effects. Though a made-for-TV movie, production values are very high, and the acting generally excellent, especially by Jennifer Jason Leigh as the Civil War era belle. As basically a romance film, it may qualify as what is sometimes disparagingly called a "chick flick," but the film's excellence and charm will appeal, I think, even to people who ordinarily don't like that genre. No advisories, except for some brief graphically grim scenes of wounded soldiers after Gettysburg. The Hallmark DVD transfer is very good.
Jon Corelis
Good Movie...saw it on The Hallmark Channel. Is it like "Somewhere in Time"? Or more like "The Lake House"? Interesting fantasy with Jennifer Jason Leigh as a young woman from the 1800s who trades letters with a man from the 20th century...her letters appear in a desk he bought from an antique store and he has to mail his from an old post office. Keeps your attention and you just want more...I didn't want it to end...
Robin P.
½
I absolutly love this movie! It's a "time and space" type movie where the characters are in different time periods communicating through time. The guy who buys an antique desk finds a letter in a secret compartment. From there it just blooms into a great love story. Good good movie!
R H
The Love Letter Quotes
There are no approved quotes yet for this movie.
Discussion Forum
Discuss The Love Letter on our Movie forum!