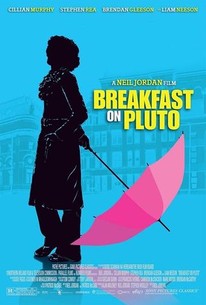 Breakfast on Pluto
2005, Comedy/Drama, 2h 15m
121 Reviews
50,000+ Ratings
What to know
Critics Consensus
Well-acted if monotonous drama about a transvestite prostitute in London during the 1970s. Read critic reviews
Where to watch
Rent/buy
Rent/buy
Rent/buy
Rate And Review
Breakfast on Pluto Photos
Movie Info
As a baby, Patrick (Cillian Murphy) is left by his mother on the steps of the rectory in their small Irish town. He's discovered by Father Liam (Liam Neeson), coincidentally his real father, and placed in an abusive foster home. By the time he's a teen, Patrick identifies himself as transgendered, renames himself Kitten and sets out for London with a rock group in hopes of finding his mother. Along the way he works variously as a magician's assistant, a prostitute and a dancer.
Rating: R (Language|Drug Use|Sexuality|Some Violence)

Genre: Comedy, Drama, Lgbtq+

Original Language: English

Director: Neil Jordan

Producer: Alan Moloney, Stephen Woolley

Writer: Neil Jordan

Release Date (Theaters): original

Release Date (Streaming):

Box Office (Gross USA): $828.7K

Runtime:

Distributor: Sony Pictures Classics

Sound Mix: Dolby
Audience Reviews for Breakfast on Pluto
"Breakfast as Tiffany"! Maybe we should leave the title as it is, because this film is so bizarre that we should reference eating breakfast on Pluto. It's also fitting because poor old Pluto is isolated from all the planets, seeing as how it's no longer considered one, just as the lead in this film is isolated from everyone else because he/she is a transvestite, which is, of course, what makes this film so bizarre. Really, I don't know how bizarre this film is, because Cillian Murphy is so fruity-looking that it was only a matter of time before he played, not simply a transvestite, but a full-blown woman, and nailed it, although, in all fairness, I sometimes think that he might actually be a woman. Maybe he/she will be true to his/herself one day soon, because he/she is only now starting to really celebrate his/her Irish nationality through this film, which is a heck of a way to remind people that you're Irish. Well, this film might only feel so startlingly Irish because it's directed by Neil Jordan, the man aspiring to be the most Irish filmmaker internationally recognized, for it's questionable if this film's subject matter is nearly butch enough to be Irish, as surely as Murphy is not nearly rugged enough to come off as Irish. Nevertheless, even though it's a little too colorful for its own good, this film is pretty decent, despite its issues. Clocking in just barely shy of 130 minutes, the film is by no means short, but it's still covering a colorful life, and a 130-minute runtime doesn't exactly cut it, being dragged out to by some surprising halts in momentum for the sake of filler, then tightened down to by a rushing of material that, make no mistake, is more recurring than you might think. I suppose storytelling is competent enough for all of the excessive tightening of material to not necessarily feel jarring, but by no means is this film especially organic in its constantly shifting focus, rushing and rushing along the life and times of the Patrick "Kitten" Braden character until you begin to lose a grip on the depth of this narrative which is told at such an exhausting and, for that matter, uneven pace. An inconsistent pacing is brutally detrimental to the engagement value of this dramedy, alone, so, as you can imagine, inconsistency in tone also proves to be a big problem, being possibly intentional as a reflection on themes dealing with the jarring distinctions between colorful fantasy and harsh reality, but still an issue for the fluff when it goes broken by tension, and a particularly big issue for the drama when it goes broken by cheese that, in all fairness, rarely truly departs. Even when a little, if not a lot more serious, this film keeps corn popping through histrionics that shake genuineness, even if they're not that prominent, at least compared to cheesy spots in the lighter aspects in which fluff gets carried away and cloys as frantic and, of course, overstylized. Overstylization does not quite end with the humor, because as a flamboyant portrait on flamboyant affairs, this film carries a thoroughly colorful style that is refreshing and plenty of fun, but recurring throughout the film, overshadowing and thinning substance until it is all but lost under the overwhelming weight of attention to stylistic ambition over dramatic ambition. The film is certainly a dramatic success when it does, in fact, get into its substance, but whether it be because it's too hurried to the thoughtful, or because it's too uneven to keep tonally focused, or simply because it's too overstylized, the final product fails to explore the full depths of a drama rich with potential. Of course, if nothing else is problematic about the execution of this worthy story concept, it's simply questionable storytelling ideas, because there are only so many real missteps, and plenty of strengths that drive the final product a decent distance, particularly in entertainment value. Rich with delightful classic pop tunes that encompass elements of many various styles, this film's soundtrack is comprised of not too predictable and thoroughly fun music, as well as a groovy score by Anna Jordan, both of which entertain by their own right and capture the setting and flamboyance of this stylish period piece, further sold by art direction by Andrew Munro, Michael Higgins, Denis Schnegg and Stephen Daly that subtly and handsomely paints an immersive portrait of the '60s and '70s. Polishing such a portrait is, of course, cinematography by Declan Quinn that, while surprisingly not as playful as the art direction and stylistic direction, has a tastefulness to color and lighting that catches your eyes and further draws you into this lively world with as an instrumental force in visual style that is itself an instrumental force in the final product overall. As I've said time and again, the film all too often places style over substance, and that's what holds the final product back, although that's not to say that the style that is often overplayed is ever less than dazzling, as director Neil Jordan delivers on stylistic competence about as much as he ever has through exceptionally colorful celebrations of snappy editing by Tony Lawson, surrealistic visuals, and aforementioned stylistic touches that sustain entertainment value as thorough. Yes, if the film is nothing else, it's a lot of fun, and I seriously wish that it could have been more than that, because entertainment value isn't enough to do full justice to a narrative that, on top of being colorful, has a lot of depth which is lost in translation, but for only so long before Jordan actually calms down and provides a glimpse into what could have been: a compelling character drama. Following the flamboyant, dynamic and often actually heavy shenanigans of an eccentric individual, this story is solid, and its execution undercuts potential primarily through ideas that don't really work, being generally competent, both in direction, and in writing by Jordan that offers plenty of clever dialogue and comic set pieces which range from pretty amusing to, well, all-out hysterical, punctuated by moments of genuine thoughtfulness that draw you into the heart of characterization and bring the focus of this flamboyant portrait on bizarre humanity to life. More consistent in selling the human touch of this dramedy is the performances, or at least one in particular, because even though just about every person given a chance under the spotlight shines with charisma, leading man Cillian Murphy is a revelation, committing to a challengingly strange role through the nailing of flamboyant behavior and mannerisms with effortlessness that not only allows Murphy to truly transform, never to be recognized, and take on an overwhelming charm that endears you to the Patrick "Kitten" Braden character about as much as the occasional dramatic highlight that is soaring in its humanity. Murphy is stellar, plain and simple, and if you see the film for no other reason, see it to see if you can actually believe that Murphy is this good, for although the film falls short in so many other places, to the point of standing as kind of underwhelming, Murphy marks a height in inspiration that is found in enough areas to make a fun and often effective, if ultimately questionably drawn affair. In closing, exhausting unevenness in pacing and tone, and cheesy aspects that range from melodrama to overt fluff wear weight down until almost as much as near-monotonous overstylization that ends up holding a very promising effort back as rather underwhelming, but only under the weight of questionable ideas, rather than missteps, as there is enough entertainment value sustained by a delightful soundtrack, immersive art direction, dazzling cinematography and clever writing, and depth sustained by thoughtful highlights in Neil Jordan's storytelling and a captivatingly charming, genuine and all around transformative lead performance by Cillian Murphy to secure "Breakfast on Pluto" as a thoroughly endearing, if equally improvable portrait on the unconventional life of an unconventional individual. 2.75/5 - Decent

An orphaned transvestite navigates associations with the IRA and the search for his birth mother. Aside from the chameleon performance by Cillian Murphy as Kitten, there is very little to like about this film. The story is a very basic tale about separation and coming of age that, when it doesn't wreak of cliche, lingers on banalities. Overall, Murphy is the only reason to see the film, but even then, the rest of the film is bound to disappoint.

I don't exactly like stories with a transverstite as the lead character but the direction of Neil Jordan was surprisingly good.

Like Patrick McCabe's novel, Neil Jordan's "Breakfast on Pluto" is episodic and fragmented. I did enjoy the way Jordan moves his camera and Cillian Murphy is committed to bringing Patrick Braden to life, but it's far too little to save the film. I found this unengaging and emotionally schizophrenic, a combination that left me feeling alienated. Plus, the chapter dividers are totally unneeded in the film, it didn't work that great in the book and on film it's totally superfluous.
See Details