Free Zone
(2006)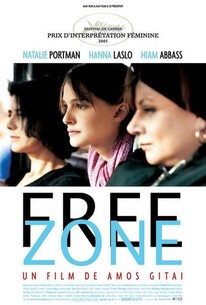 TOMATOMETER
AUDIENCE SCORE
Critic Consensus: The symbolism in this cinematic metaphor on conflicts in the Middle East becomes so overbearing that it's hard to care about the characters or their plight.
Movie Info
A Jewish-American woman still reeling from her breakup with her Spanish-Israeli fiancée hits the road with a middle-aged Israeli woman, who is looking to collect the 30,000-dollar debt owed to her by her husband's former business partner, and a Palestinian woman, who claims to know the elusive moneyman's whereabouts, in this road-trip drama from Kippur director Amos Gitai. In her efforts to escape the painful memory of her breakup with former fiancée Julio (Aki Avni), Rebecca (Natalie Portman) agrees to accompany Hanna (Hanna Laslo) on her arduous journey through Israel to the Free Zone -- a tax- and customs-free region where those from countries at war with one another amiably buy and sell cars -- in hopes of collecting a large debt owed to her by her ailing husband's business partner known only as "The American." When Hanna and Rebecca finally arrive in the Free Zone only to discover that Hanna's contact and money have mysteriously gone missing, a Palestinian woman named Leila (Hiam Abbass) agrees to lead the skeptical Hanna to both "The American" and Hanna's rightly due cash. ~ Jason Buchanan, Rovi
Critic Reviews for Free Zone
Audience Reviews for Free Zone
How long will this circle of horror last? Rebecca has a deep appreciation for the Islamic ways despite breaking off a recent engagement with her fiancé. After getting into an argument with her mother in-law, she jumps in a taxi in Jordan with a unique taxi driver. She is female and has her own problems. Neither have anything special to do that day but tell each other their fascinating stories of the events in their life that led to their chance encounter. "The man could only take fifty, fifty from hundreds. I was the fifty-first." Amos Gitai, director of Tsili, Words from Gods, One Day You'll Understand, Eden, Promised Land, and Disengagement, delivers Free Zone. The storyline for this picture is interesting mainly due to the settings and Islamic feel and the acting is very solid. The cast delivers their performances well and includes Natalie Portman, Hana Laszlo, Hiam Abbass, Carmen Maura, Makram Khoury, and Aki Avni. "What did she do?" "She let me have her in her husband's bed." Free Zone is a movie I grabbed off Netflix because it starred one of my all time favorite actresses, Natalie Portman. I will say this movie was interesting from a scenery and sub plot purposes. The overall movie was just okay so I wouldn't go to out of my way to see this, but it is worth watching once. "What do you want to grow?" Grade: C+
Kevin Robbins
well the first 10 minutes were completely insane, the rest of the movie was extremely slow, dull and boring... perhaps it would of been better if it was a palestinian suicide bomber they met at the free zone.. . it would of perhaps made the movie a little shorter. This is one of the worst foreign movies i've seen. Even a great actress like natalie portman couldn't save it from its doom.
Paul Atkinson
Leigh Ryan
Super Reviewer
Free Zone Quotes
There are no approved quotes yet for this movie.
Discussion Forum
Discuss Free Zone on our Movie forum!