The Breed
(2006)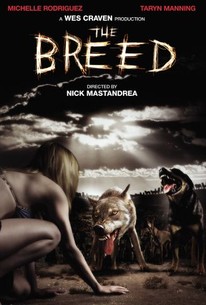 Movie Info
Five friends find their relaxing summer getaway turning into a bloody battle for survival when they discover that the remote island that they thought was uninhabited has been overrun with vicious, genetically mutated canines. Michelle Rodriguez, Oliver Hudson, and Taryn Manning, star in a Wes Craven production.
Critic Reviews for The Breed
Audience Reviews for The Breed
[img]http://images.rottentomatoes.com/images/user/icons/icon14.gif[/img] Imagine if you would, the typical victims of the antagonist in survival horror movies. These are adolescent teenagers with masssively differing characteristics. You get a few sex obsessed male idiots, some attractive and open minded women, and the unbelievably good looking nerd. However by a great length I don't think i've ever seen a movie which celebrates said incredibly annoying character arcs more, than the Wes Craven presents flick The Breed. Horror films are supposed to make you invest in fragile, terrfied characters so that they therein win over your sympathy as you hope that they survive whatever it is they're being put through. But watching The Breed, most of the time, I wanted the protaganists to get mauled to death by a rabid pack of genetically modified dogs. If you can suffer the crassly irritating characters this is nevertheless a surprisingly thrilling, wonderfully amusing, and well executed killer dog movie. The creativeness of such a genre is low, but still those are hard to pull off, even if it doesn't subvert the sub genre with intellect I watched The Breed with a straight face, I was kept interested while it lasted. The best thing you can say about the film is that it's a great deal better than some of the other B movies churned out in the last decade. I think the film has safe residence on late night television, to it's benefit it is enormously greater than the average Syfy channel monster flick. So much that this is among the "Citizen Kane" of good, bad movies. It ticks an acceptable amount of the nature survival horror flick boxes and has a few cheap jump shocks that are played out very effectively. This is Nicholas Mastandrea's directing debut. He's had a prestigious career of assistant directing some great films, but with taking overall control, he's made a good effort that knows how bad it is, but overall is great at being deliberately bad. That's what I wanted from watching it, and it's what I was given. Not everyone will like it, I can't really recommend it to someone wanting a masterfully nightmarish cinematic panic attack but if you appreciate the B movie conventions of old school horror immensely you will discover everything that I found in it and are likely to enjoy The Breed as much as I did.
Directors Cat
Super Reviewer
½
Using Old School horror elements as we've seen in previous killer animal films such as Cujo and Man's Best Friend, The Breed is a decent B movie. The film doesn't really have a good cast, but they do their best considering that the script is so cliché. The ideas expressed in this film have been done before, done better too. The Breed is not that horrifying, but it does manage a few jolts. The concept of this film isn't anything great, but it works well enough to entertain you. The Breed is yet another nature gone awry film, and it doesn't try to shy away from that point whatsoever. The film is entertaining, but it lacks any real effective terror that has made horror films of the same style so chilling. Fact is, is that the films formula works, but not well enough to truly be memorable. The film is predictable, and you know right from the start how this one will end. As far as the film is concerned, the film works well enough considering its small budget, and not so good cast. At least you don't end caring for them, because after all they lack any real acting talent. In the end, this is a decent film with a pretty entertaining story, despite the fact that it borrows from many other films of this caliber. I liked it enough considering that the plot or acting isn't that great in the first place. The Breed is a good enough B movie, but nothing ever good.
The dogs were fantastic; it was really impressive. I love how they were all German Shepherds though haha. Like every kind of German Shepherd- white, black, long haired, short haired, sable, etc. haha. Awesome. The acting and overall plot was dull and cliched (seen it all before). The dogs were amazing though. That's pretty much the only thing I liked about this film. Good doggies...they were so cuteee!
The Breed Quotes
There are no approved quotes yet for this movie.