Life is a Bed of Roses
(1983)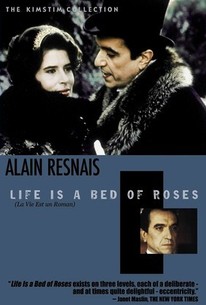 Life is a Bed of Roses Videos
Life is a Bed of Roses Photos
Movie Info
With Life is a Bed of Roses, filmmaker Alain Resnais wanted to create a lighthearted tribute to three important French directors, each of whom defined a particular era in his country's cinema Melies (the first French filmmaker to use narrative--his most famous film is A Trip to the Moon), the impressionist L'Herbier (most famous for his inspirational avant garde work during the '20s) and Rohmer (most famed for his sextet of "Moral Tales" during the '60s). To present his chronicle of the human quest for a utopia of personal happiness and fulfillment, Resnais created two distinct narratives representing the past and present, and then interspliced them with a third more fantastical tale to provide contrast. Representing the past, the first tale centers on a monied eccentric who creates a "temple of happiness' in his chateau. There, guests are given a special potion, laid inside enormous cribs and surrounded by pleasant sensations to help them return to the blissful state of infancy. The second story takes place in the same chateau where a symposium on the techniques and philosophies of the eccentric are hotly debated and elaborated upon. Weaving its way between the two tales is the third, which represents the medieval fantasies of children in a forest who imagine the struggle between a wicked king and a brave good-hearted warrior. ~ Sandra Brennan, Rovi
Rating:
PG
Genre:
, ,
Directed By:
In Theaters:
On DVD:
Runtime:
Studio:
International Spectrafilm
Critic Reviews for Life is a Bed of Roses
Audience Reviews for Life is a Bed of Roses
½
Im beginning to think that while Godard is the more historically important film maker, he was always been foremost a "critic", whose main aim was to create webs of references and change our ways of veiwing cinema as an art, andd though I have allot of respect and admiration for his work and the role of criticism in general, the poetry, politcs, and philosophy his characters often talk about second-hand is fully embodied in the films of Alian Resnais, who managed to absob Godard's self-awarness, but also to transcend it. Godard was always taking notes, while Resnais was writing essays(or so Ive come to feel of late). This is a strange, but brilliant multi-storied, pseudo-musical, about the role of fantasy and imagination. A wealthy Utopian group in the early 1900's builds an elaborate castle called "The City Of Happiness", where they can try to be "reborn" through a series of esoteric rituals like Jodorwosky's "Holy Mountain", while years later when the structure has become a boarding school a group of educators have a conference on the role of imagiantion in education. Several children who have remained at the school during the conference run around and imagine a world of knights and dragons and monsters. The three stories are edited together sublimely bouncing and contrasting their themes of off one another, in funny, insightful, and emotionally engaging ways.
Joseph Sylvers
So I thought I Want to Go Home was just an aberration for Resnais, but unfortunately I was wrong. This is every bit as over the top, but at least here the cartoon-like characterizations fit better into the children's fairytale-musical context. The humor works pretty well at first but it eventually gets tiresome and plain silly. The three parallel narratives are well juxtaposed together and thematically consistent. In the end the whole farcical arguing and fighting and seducing bullshit didn't do anything for me.
X. T. C.
Life is a Bed of Roses Quotes
There are no approved quotes yet for this movie.