9
(2009)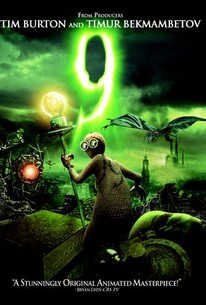 TOMATOMETER
AUDIENCE SCORE
Critic Consensus: Although its story is perhaps too familiar and less complex than some might wish, 9 is visually spectacular, and director Shane Acker's attention to detail succeeds in drawing viewers into the film's universe.
Movie Info
The time is the too-near future. Powered and enabled by the invention known as the Great Machine, the world's machines have turned on mankind and sparked social unrest, decimating the human population before being largely shut down. But, as our world fell to pieces, a mission began to salvage the legacy of civilization; a group of small creations was given the spark of life by a scientist in the final days of humanity, and they continue to exist post-apocalypse. One of these creations, 9, emerges to display leadership qualities that may help them survive and possibly even thrive. It is only by chance that he discovers a small community of others like himself taking refuge from fearsome machines that roam the earth intent on their extinction. Despite being the neophyte of the group, 9 convinces the others that hiding will do them no good. They must take the offensive if they are to survive, and they must discover why the machines want to destroy them in the first place. As they'll soon come to learn, the very future of civilization may depend on them.
People Who Like this movie also like
Audience Reviews for 9
Based on the similarly themed animated short film this dark and visually stunning adventure follows a number of puppet-like creatures that seem to be all that's left with a soul in a post-apocalyptic world, where the machines dominate. The lovable main characters, that show more expressions just through their eyes than some actors with their entire faces wander through gloomy landscapes and ruins fighting fantastic and terrifying opponents. That may not be much of a story, especially the final solution falls a bit short, but is very entertaining, enthralling and visually most impressive. Especially the original and fun action sequence have you sit on the edge of your seat. I certainly would not mind revisit this world, especially with the small ray of hope the ending has in store, for further adventures with the likable fellows. Younger kids should probably stay away from the film, considering the dark atmosphere and menacing attacks. Still, highly recommended for being different and very unusual.
½
the forces of intolerance are at havoc yet again, and so a hero will rise. is it the guy who thinks if you hide then mr. bad man will go away? what about the guy who thinks more muscle is the answer? or the hottie who wants to face evil all by herself cause nobody's man enuff? like so many films nowadays, here's another visual eyeful, creative and stunning, but the story could use a little pep, yah? a nice one nonetheless.
Kevin M. Williams
Super Reviewer
Cold and lifeless (no pun intended), 9's worst offense isn't its mediocre visuals or underutilized cast - though it does have both - but rather, its flimsy plot that could easily have been crafted by a seven year old and its baffling lack of sophisticated dialogue or character development.
Sam Barnett
Super Reviewer
9 Quotes
| | |
| --- | --- |
| #6: | Go back to the source! |
| | |
| --- | --- |
| #1: | Sometimes fear...is the appropriate response. |
| | |
| --- | --- |
| #9: | I was right! You did send him out to die! |
| #1: | He was old! He was weak! |
| #5: | *gasp* |
| #1: | Sometimes one must be sacrificed for the good of many. |
| #7: | You coward! |
| | |
| --- | --- |
| #1: | They left us nothing. Nothing. Why do we have to right their wrongs? |