Senki (Shadows)
(2007)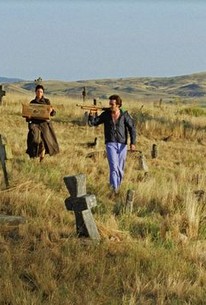 Movie Info
A successful young doctor with a beautiful wife, a happy child, and a comfortable house finds his life suddenly changed in ways he never thought possible after being injured in a serious car accident. To the outside eye Lazar Perkov (Boris Nacev) has everything -- indeed his friends and colleagues have even gone so far as to christen him with the nickname "Lucky." But appearances can sometimes be deceptive, and despite having all the creature comforts, Lazar is constantly trying to live up to the demands of his overbearing mother and discontented spouse. Every day seems to be pretty much the same for the man they call Lucky, until one day when Lazar barely survives a devastating automobile accident. Upon recovering from his life-threatening injuries, Lazar is confronted by a series of people who appear to die time and again, and always deliver the cryptic message "Return what is not yours. Have respect." Experiencing such visions in dreamland is one thing, but when they begin to invade his waking life, Lazar quickly draws the conclusion that these apparitions are simply lost souls who have yet to find peace in the afterlife. When the specter of an old woman begins speaking in a dialect Lazar can't recognize, the frightened accident survivor seeks out the aid of a linguistics professor in deciphering her message. Despite the fact that the professor always seems to be away at a conference, his wife is more than willing to help. Soon, she and Lazar have entered into a bizarre relationship. Unfortunately for Lazar, the situation only grows more haunting, and as the people around him begin to appear and disappear at random, and his wife appears indifferent to her husband's fate as she departs for a seaside vacation with her lover and child.
Rating:
NR
Genre:
, , ,
Directed By:
In Theaters:
Runtime:
Studio:
News & Interviews for Senki (Shadows)
Critic Reviews for Senki (Shadows)
Audience Reviews for Senki (Shadows)
½
Senki (Shadows) (Milcho Manchevski, 2007) Senki was Macedonia's entry for the Best Foreign Language Film Oscar in 2007. It didn't get nominated, although that's the year the Academy infamously passed over 4 Months, 3 Weeks, and 2 Days as well. Not that this movie is anything close to 4/3/2, but it's an interesting, if kind of derivative of Japanese New Horror, flick that combines the American TV series ER with Ring and its ilk to come up with something that you will at least not regret watching. Lazar Perkov (The Border Post's Borce Nacev) is a doctor who, at the beginning of the movie, is involved in a very nasty car accident-one of those "if your head had been a couple of inches the other way you'd be dead" kinds of things. But he survives, and attempts to move on with his life. The only problem is, he's starting to see weird things, things that no one else can see. Being a doctor, he suspects some sort of brain injury, but is it? Or could it be something more? The film plays out less like a horror movie than it does a drama with mystery elements and the occasional touch of horror. And as long as you know that's what you're in for-that things will not be blowing up every five minutes and long-haired Japanese ghosts aren't going to be crawling out of televisions-then you can probably sit back and enjoy this one for the leisurely-paced drama/mystery that it is. (Note: you may not even consider it a mystery, depending on how much attention you're paying to early scenes; the entire "mystery" angle is explained in the first fifteen minutes or so, and even if you know all the answers, it's still a pretty good drama.) Oscar-worthy? Not really. But not awful, either. ** 1/2
Robert Beveridge
Not very original starting point - man in a near-death experience starts having visions - especially because "The Sixth Sense" seems to be eternally quoted. Still, I enjoyed talking with the director about this film simply because he gives you all the clues the film is lacking and it's more for his candid effort that I give it 3 stars. Otherwise it's just a suspense-film, too long to really be effective as a scary movie but still cool if one takes it as a meditation on guilt and death.
Diana Anselmo-Sequeira
Senki (Shadows) Quotes
There are no approved quotes yet for this movie.