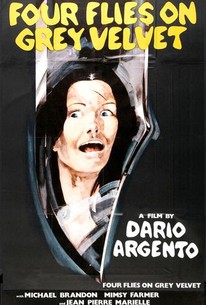 Four Flies on Grey Velvet
1971, Mystery & thriller, 1h 44m
8 Reviews
1,000+ Ratings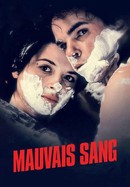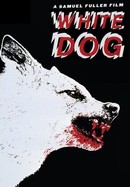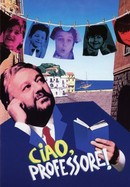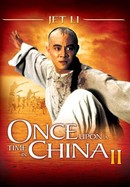 Once Upon a Time in China II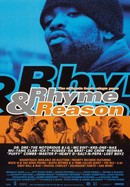 Rate And Review
Four Flies on Grey Velvet Photos
Movie Info
Dario Argento directs the tale of a rock musician who becomes entangled in a gruesome murder case.
News & Interviews for Four Flies on Grey Velvet
Audience Reviews for Four Flies on Grey Velvet
Dreams of someone being decapitated with a sword, a photographer in the balconies with the head of a puppet, and a victim's eyeball being studied by police with a special camera that can capture the last image seen with that eyeball are a few visuals in this film that you just remember. Dario Argento has his signature on these unique shots that make his work seem like painting after painting. This film is the third of Argento's "animal trilogy"; and what a way to end it, with flies...

The camerawork and photography - and the sheer style is classic giallo, and gorgeous. Watch it with the sound off and it's twice the film. Sadly, I watched it with the sound on so I couldn't escape the boring lead character or the predictable plot. Absolute style over substance.

4.8/10 There are moments where I love Dario Argento ("Deep Red", "Suspiria", and "Phenomena") and then there are also these little moments where I just don't ("Inferno"). He's a divisive fellow, and to my surprise, there are some people who seriously hate this guy. I could never do such a thing, for "Deep Red" is one of my all-time favorite films, and "Suspiria" is a great film when I need some simple surrealistic pleasures. But not all of Argento's films are reminiscent of his best, and this is why he was only, for an instant, a great filmmaker; although he may come back to us one day. However, maybe it's just a matter of finding the right script, the right twists, and the right team of movie-makers to match his style. I like Argento when he's allowed to stretch his creative limbs. One of his earlier efforts, "Four Flies on Grey Velvet", has all the imagination and inspiration the world; but little of the ambition and the goodness that we've come to expect out of Argento. Of course, this was before "Deep Red" and "Suspiria", but it was also after "The Bird With the Crystal Plumage". Therefore, something this bland, and this mediocre, just isn't acceptable. The film starts out on an entertaining note; with an opening credits sequence involving radical rock-and-roll and plenty of interesting camera angles to set the mood. We meet Roberto Tobias (Michael Brandon), the drummer in the rock band that produced the said radical rock-and-roll, who sees a creepy man peeking in on him and his band-mates during rehearsal. I guess this isn't the first time he's seen the man, because Roberto eventually gets pissed off enough to follow the guy into an abandoned theater and accidentally stab him with his own switchblade. Now here's the problem; there was a witness to the accidental killing of this strange man, who we never hear of or care about again, and for (possibly) good reason. The witness of the incident donned a silly and creepy puppet mask, and took pictures of the crime. Instead of going to the police with the evidence, it becomes clear that the villainous puppet-man would rather torture the hell out of our hero and drive him to the edge of insanity, although the question remains: why? Why is the villain doing this? What is his/her motive? We learn about that more through the film's twist ending, which is maddeningly derivative and lame. The movie has some suspenseful scenes; the kind that I like to see out of Argento. He plays with our "fear of the dark" a little, but never to the extent that the film is actually scary, but what's that word mean to anyone these days anyways? This might as well be more of a thriller than a horror film, thus, it does not need to be particularly frightening; just thrilling. But even then, it doesn't meet the standards. It doesn't completely fail, and I wouldn't call the film bad, but for a movie that thinks this much and tries so hard, there wasn't enough to like. Argento didn't embed enough scenes with his stylistic flare into it, and when he did, it was fun; entertaining, even. However, these scenes are so scarce, so brief, and so forgettable. This leaves "Four Flies on Grey Velvet" to be a full-on bore with a few impressively staged scenes, an engaging and stylish soundtrack (courtesy of Ennio Morricone, a collaborator of Argento in his earliest - and I mean earliest - days), and many other qualities that may appeal to some hard-core fans of the filmmaker, but not to me. By all means, I don't recommend it, but some seem to find it engaging and rather great, so maybe you shouldn't take my advice. By no means would I tell you to distance yourself from the film; I just found it aggressively disappointing.

Third directorial effort from Dario Argento is a good Giallo horror film, but it is a bit less focused than his previous two works. I felt that with this one, Argento didn't deliver anything truly memorable, which is disappointing. The film is still good, but lacks anything to really get your attention. The cast are good in their parts and the direction is very well done. However the film's script lacks a bit in terms of memorable, effective suspense that actually works. I liked the film overall, however I felt that compared to other Argento works, it was nowhere near as good as his later films. As far as the Giallo is concerned, this is a good addition to the genre, but one that could have been much better than what it turned out to be. Nonetheless, this is must see viewing for Argento fans, and it definitely is a good conclusion to his first trilogy of films, the Animal trilogy. His Three mothers trilogy would be much better and would become some of the finest works of Italian horror cinema. If you're looking for a good Giallo, then give this one a shot. However his masterpiece of the Giallo, Deep Red would be a tad better than this. Despite the flaws of this picture, I liked it, and thought it was a pretty interesting idea. However it was one that could have been reworked a bit to make it much better than what it turned out to be. Enjoyable for what it is, this is Argento finding his niche in the horror genre, and he would craft one of the finest Giallo with Deep Red. This film is good, and manages to be entertaining, but you are left wanting more out of the film, especially considering that this was filmed by Dario Argento.
See Details