Shank
(2009)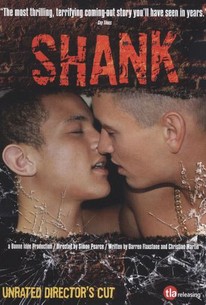 Shank Photos
Movie Info
Award-winning filmmaker Simon Pearce takes the helm for this gritty coming-of-age story about a teenage gang member who keeps his homosexuality a secret from his fellow thugs. Eighteen-year-old Scally lad Cal (Wayne Virgo) is all about sex, drugs, and violence. He's a hoodlum at heart, but his sexual urges set him apart from the pack. Despite random hookups, it's fellow gangster Jonno that Cal really wants. Secretly pining for Jonno from afar, Cal gets uneasy when de facto gang leader Nessa grows suspicious of his sexuality. When Nessa commands the gang to mug an innocent student named Oliver and the incident turns into a gay bashing, Cal distracts the gang momentarily so Oliver can escape. Worried about the repercussions of his impulsive act of heroism, Cal seeks help from Oliver, who offers him a place to stay until it all blows over. With Oliver, Cal can finally be himself, and the two men slowly fall in love. But Nessa is out for revenge, and she's determined to hit Cal where it hurts by kidnapping Oliver and luring his lover into a trap at an abandoned warehouse. There, Nessa fuels the fire of hatred, and Jonno commits an act of sexual aggression that will change everyone who witnesses it forever.
Rating:
R (for strong sexual content and violence including a brutal rape, pervasive drug use and language)
Genre:
Directed By:
Written By:
In Theaters:
On DVD:
Runtime:
Studio:
TLA Releasing
Critic Reviews for Shank
Audience Reviews for Shank
½
Shank (Simon Pearce, 2009) I stumbled upon Shank while I was looking for a copy of Shanks, the infamous 1974 William Castle film starring Marcel Marceau. (Which I did eventually find, viz. my review on 2Mar2013.) This one looked interesting, so I threw it on my Netflix queue, where it joined almost four hundred other titles, and I promptly forgot about it. Fast-forward a year or more and, for various reasons, I wound up stuck in the hospital. It was the first time I'd been overnight in a hospital where I was the patient in over thirty years. Things have changed. They had to clear my friggin' laptop with the electrical department, for pete's sake. So that first night, stuck with a godawful roommate who spent the entire insufferable eighteen hours I was stuck in a room with him complaining a mile a minute to anyone who would listen (I kid you not, he did not sleep), the only way I had to watch anything other than broadcast TV, which I swore off a couple of years ago, was on a phone. And ESPN3 wasn't showing any cricket that night, so I popped open the Netflix queue, spun the scrollbar, and then stabbed at the moving queue to pick something as close to at random as I could. And thus, as a result, I spent my first night in the hospital watching Shank and Genetic Chile [below]. (The next day, I got my laptop back, and I'll tell you, I have never been so happy to see a fifteen-inch screen in my life.) None of which has more than the vaguest thing to do with Shank, other than that I was watching it on a painfully small screen and thus cannot make my usual comments about such things as cinematography, camera placement, and the like. Probably for the best, since that's the day I was introduced to dilaudid, which became my best friend for the next three weeks. How fuzzy was I? I'd actually written down the wrong film (I had Mo Ali's 2010 thriller in this spot instead of Simon Pearce's gay romance; I have never seen the former). Thankfully, I came to my senses, because by all accounts that movie is a dog's dinner. This one, despite a slow and confusing start and maybe a bit too much manufacture drama leading up to the big climax, is pretty good. Plot: Cal (Release's Wayne Virgo) is a gang member who is secretly gay; when he's not running with his buddies and concealing his sexuality from them, he's having a dalliance with an older chap (Judas Ghost's Garry Summers) he met over the Internet. All is well until Cal steps in to stop the boys beating Olivier (Marc Laurent in his only screen appearance to date), a bookish, openly gay exchange student. The two form a friendship that is threatening to become something more-something that could destroy both sides of Cal's fragile existence. If the plot is somewhat stock (and all of the outcomes of these threads predictable), it helps that Pearce handles his characters with sensitivity and never allows them to become stereotypes (at least, not too much). Writer Darren Flaxstone, turning in his first script, does a pretty credible job at character-building, though he does throw his cast into some situations that, if they happened in real life, you'd be calling patently ridiculous. (I want somehow to tie this to his day job as an editor on nature documentaries, but that would be stretching, even if it would allow me a gratuitous Berberian Sound Studio reference.) Interesting characters in stock situations...well, to be blunt, I wanted to like this a great deal more than I did, but I'm certainly not going to complain about a movie with sympathetic, well-drawn gay protagonists who react to those stock situations in believable ways. ** 1/2
Robert Beveridge
Shank is exploitive enough to balance a gay romantic-drama story with gay softcore porn, gang violence, drug abuse, and a short range of moraless characters that lack any depth on a low-budget. However, thanks to moderately well direction and acting, that story is told realistically and raw.
Kendyl Clem
At times the movie is flawed, but overall the story told of a conflicted young man coming to terms with who he is while in a place he can't be who he is. Over acted at times but a pretty good cast led the best actor in this film Wayne Virgo. I expect more good things from Mr. Virgo.
Thomas Johnston
Super Reviewer
Discussion Forum
Discuss Shank on our Movie forum!
News & Features