13 Rue Madeleine
(1947)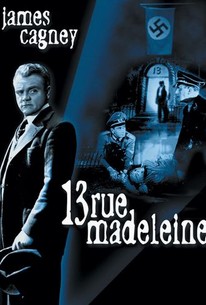 Movie Info
This film is not only a revealing glimpse into the workings of the O.S.S. (Office of Strategic Services) during WW II, but it is also a full-fledged spy thriller. An excellent cast includes James Cagney, Karl Malden, E.G. Marshall, and Red Buttons. Cagney stars as an O.S.S. training officer, bent upon discovering a German traitor within his ranks while at the same time completing highly dangerous espionage assignments. The risks increase when one of his men is murdered from within, and Cagney, convinced he knows who the murdering infiltrator is, vows revenge. Authentic O.S.S. film footage make this film historically significant as well as entertaining.
Critic Reviews for 13 Rue Madeleine
Audience Reviews for 13 Rue Madeleine
The first half of this post war-time drama is a straight propaganda piece, filmed in newsreel style, showing how the plucky ladies and chaps of the OSS were trained to sock it to the dreaded hun. This has some value as a historical curio, but it hardly makes for gripping drama. Fortunately, half way through one of the operatives turns out to be a double agent, and Cagney himself parachutes into enemy territory to fulfil the mission. From here on in it becomes far more satisfying as Cagney comes into his own as his trademark no-nonsense tough guy and some atmospheric location based camera work nicely combines wartime bravado with some visuals and themes that would not look out of place in a film noir. Rather dated, but a solid thriller that's pretty much carried entirely by Cagney's charisma.
13 Rue Madeleine Quotes
There are no approved quotes yet for this movie.