The Inheritance
(2011)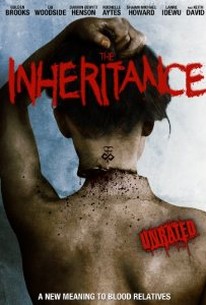 AUDIENCE SCORE
Critic Consensus: No consensus yet.
Movie Info
Five cousins gather an old dark house to compete for a massive inheritance, only to find that winning it may be murder as occult secrets and supernatural occurrences cast a dark shadow over the grim proceedings. Summoned to the sprawling family estate by their mysterious Uncle Melvin (Keith David), cousins Karen (Golden Brooks), Henry (D.B. Woodside), Tyrone (Darrin Dweitt Henson) Lily (Rochelle Aytes) and Simpson (Shawn Michael Howard) learn that they are all heir to a vast fortune that has been hidden away since the days of slavery. Back then, tradition was paramount. And though the family has long since been shattered, breaking family custom can still yield dire consequences. Later, as evening gives way to night, Aunt Felicia (Adriane Lenox) shows up to expose the family's occult roots, and deliver a dire prophecy about events that will soon come to pass. Now, as the secrets of their ancestors are dragged screaming into the light, the five cousins who dreamt of untold riches will discover just how much their ancestors were willing to sacrifice in order to secure their freedom.
Critic Reviews for The Inheritance
There are no critic reviews yet for The Inheritance. Keep checking Rotten Tomatoes for updates!
Audience Reviews for The Inheritance
What could have been an interesting African American Wicker Man turns into a chaotic shambles of mixed messages and genre incompetence. The film starts with a prologue focusing on slavery. I sat there hoping it wouldn't turn into some preachy guilt trip. Luckily, it did not. That would have completely killed it. Even though the disappearance of the white characters is met with complete ambivalence, which doesn't suggest racism, just poor writing. The slavery themes are confusingly mixed with religion and voodoo. As people begin to rise from the dead, some awful effects come into play. It seemed like they used a computer to do something that was created convincingly in the Victorian stage days. What it all comes down to is a rushed story and a bunch of characters you want to die. It also falls into familiarity, which is a shame, as a convincing horror based around slavery, superstition, religion etc. could be very powerful.
Luke Baldock
Super Reviewer
The Inheritance Quotes
There are no approved quotes yet for this movie.