The Inheritance
(2011)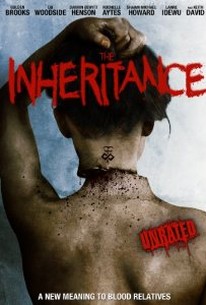 AUDIENCE SCORE
Critic Consensus: No consensus yet.
Movie Info
Five cousins gather an old dark house to compete for a massive inheritance, only to find that winning it may be murder as occult secrets and supernatural occurrences cast a dark shadow over the grim proceedings. Summoned to the sprawling family estate by their mysterious Uncle Melvin (Keith David), cousins Karen (Golden Brooks), Henry (D.B. Woodside), Tyrone (Darrin Dweitt Henson) Lily (Rochelle Aytes) and Simpson (Shawn Michael Howard) learn that they are all heir to a vast fortune that has been hidden away since the days of slavery. Back then, tradition was paramount. And though the family has long since been shattered, breaking family custom can still yield dire consequences. Later, as evening gives way to night, Aunt Felicia (Adriane Lenox) shows up to expose the family's occult roots, and deliver a dire prophecy about events that will soon come to pass. Now, as the secrets of their ancestors are dragged screaming into the light, the five cousins who dreamt of untold riches will discover just how much their ancestors were willing to sacrifice in order to secure their freedom.
Rating:
NR
Genre:
,
Directed By:
Written By:
On DVD:
Runtime:
Studio:
Duly Noted Inc.
Critic Reviews for The Inheritance
There are no critic reviews yet for The Inheritance. Keep checking Rotten Tomatoes for updates!
Audience Reviews for The Inheritance
½
The Inheritance (Robert O'Hara, 2011) Because I have seen so few 2011 releases so far, I haven't even thought about coming up with a Best Movies of 2011 list. However, I can tell you that when I have seen enough to compile a Worst Movies of 2011 list, there's every chance that The Inheritance, a terminally stupid attempt at a supernatural slasher film, will be on it. Plot: five siblings-Lily (Madea's Family Reunion's Michelle Aytes), Karen (Beauty Shop's Golden Brooks), Tyrone (Stomp the Yard's Darren Dewitt Henson), Simpson (Men of Honor's Shawn Michael Howard), and Henry (Romeo Must Die's D. B. Woodside), along with Simpson's boss and his wife (Edward Nattenberg in his first feature appearance and Prelude's Jenny Weaver)-are on their way to a family house in the middle of nowhere (what part of nowhere isn't mentioned, but it's snowing, so doubtful it's in the Deep South. This becomes important). When they get there, the rest of the family hasn't arrived yet, but there's a note attached to a large box of liquor sitting on the bar in the great room from Uncle Melvin (The Thing's Keith David) telling them to enjoy themselves till the rest of the cast shows up. You can imagine what the next fifteen-ish minutes of this less-than-ninety-minute movie entails. In any case, eventually the older generation shows up, and that's when things get creepy, or are supposed to, anyway. You see, the family has a generations-old blood pact with a spirit named Chakabazz (Girl Play's Lanre Idewu), and in order for that pact to stay in place, they have to sacrifice a virgin. And despite her "I'm a lesbian, not a virgin!" protests, as far as the family is concerned, Lily fits the bill... It's not a bad concept, and lord knows it's been done well a number of times over the years. But O'Hara, both writing and directing for the first time, didn't do anything to bring originality to the table other than saying "what if I do this with a mostly-black cast?". While the cultural differences between the melanin- and non-melanin-challenged in America may be sufficient to turn comedies or dramas into high-grossing niche-market fare-just ask Tyler Perry-it is a well-known fact since at least the days of Mantan Moreland that it doesn't work in the horror genre. Or, perhaps, not well known enough, at least not to Robert O'Hara. Why this is could fill an essay, or even a book of same. I think partly it has to do with the fact that horror films have been more culturally-integrated over the years than more mainstream fare (after all, Mantan Moreland was acting in widely-released horror films decades before Sidney Poitier would do the same in mainstream dramas, even if Moreland was usually there for comic relief), but it also has to do with the fact that the horror genre is already much more shot-through with cliché. You tack on a few stereotypes, and the horror junkie is going to give you the I've-seen-it-all-before yawn. Not that O'Hara limits such to his characters' African-American-ness ("I can't reasonably posit that a beautiful, successful twentysomething could possibly be a virgin... I know, I'll make her a lesbian!"). For what it's worth, I wish I'd liked this movie a whole lot more than I did. You have a passel of engaging actors (Keith David has been overshadowed by James Earl Jones and Sam Jackson as far as The Voice goes, but just listen to this guy's voice-overs during the flashback scenes!) doing what they do best, but they were given a bog-standard script to work with, and O'Hara, to quote Clive Barker, doesn't know a camera lens from a plate of spaghetti. I'm not generally a fan of the Hollywood horror-remake craze, but I'd love to see someone redo this project with a much better put-together script; I think there was a lot of potential here, but O'Hara resisted it at every turn. * 1/2
Robert Beveridge
What could have been an interesting African American Wicker Man turns into a chaotic shambles of mixed messages and genre incompetence. The film starts with a prologue focusing on slavery. I sat there hoping it wouldn't turn into some preachy guilt trip. Luckily, it did not. That would have completely killed it. Even though the disappearance of the white characters is met with complete ambivalence, which doesn't suggest racism, just poor writing. The slavery themes are confusingly mixed with religion and voodoo. As people begin to rise from the dead, some awful effects come into play. It seemed like they used a computer to do something that was created convincingly in the Victorian stage days. What it all comes down to is a rushed story and a bunch of characters you want to die. It also falls into familiarity, which is a shame, as a convincing horror based around slavery, superstition, religion etc. could be very powerful.
Luke Baldock
Super Reviewer
½
Not good at all... I expected more from Keith David... Basically its a bunch of family members who want a piece of the inheritance but disrespect there ancestors, who want to sacrafice them for whatever reason dating back many many years to when there was slavery and blah blah blah.. the hour and a half movie seemed like it went on forever.. terrible story.. 3/10
Kris Sipos
The Inheritance Quotes
There are no approved quotes yet for this movie.