Lucky
(2011)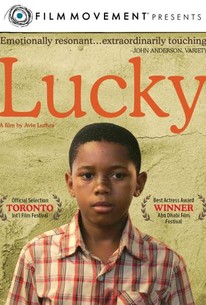 Movie Info
LUCKY is a South African feature length film about a ten-year-old South African orphan who leaves his Zulu village to make his own life in the city... only to find no one will help him, except a formidable Indian woman called Padma.
News & Interviews for Lucky
Audience Reviews for Lucky
Even a serial killer can win the lottery. Good movie! This film is innovative and clever and extraordinarily well written. The screenplay was an extraordinary piece of writing. I won't give anything away, because if you like quirky independent film, you should see this movie. But, some of the scenes were beautifully nuanced. In particular, the final scene, which was an extremely difficult scene to pull off. Sublette manages to make it work. The pacing, editing, and direction are all as good as it gets. And the way the screenplay subtly builds these characters so that we believe their relationship is masterful. In "Lucky", the lack of regard for morality, as understood by the majority of the populace, is not obvious. It isn't a clear part of the plot. It isn't relied upon to engender fear or revulsion. I almost didn't notice it until near the end of the film. It is as if the film was made entirely by people unaware that such a concept as "objective morality" even existed. Of course it wasn't. If for no other reason than that, "Lucky" deserves praise. Ben Keller is sort of a bumbler who carries a torch for Lucy, a co-worker he's known since childhood. She's indifferent until he wins $36 million in the Iowa lottery; trouble is, he murdered the young woman who bought the ticket (it's not his first murder), but the mercenary Lucy doesn't discover Ben's secret until their honeymoon. She figures out that he murders women who look like her, so she's probably safe: she'd like to wait for the next lottery check to come in the mail, then run away. Ben knows she knows and wants her to love him anyway. With a police detective sniffing around and Ben's protective mother watching things carefully, can Lucy make a great escape?
MisterYoda ?
Super Reviewer
Funny black comedy. Ben wins the lottery and ends up marrying his life long love Lucy. She discovers that he is a serial killer, she digs up the bodies and moves them so that they can't be found and she can still live off the winnings.
Candy Rose
Super Reviewer
Lucky Quotes
There are no approved quotes yet for this movie.