Gimme Danger
(2016)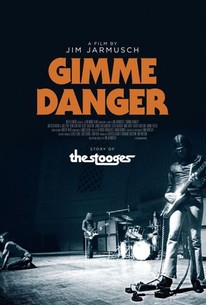 TOMATOMETER
AUDIENCE SCORE
Critic Consensus: Its infectious enthusiasm for its subjects - and Iggy Pop's ingratiating presence - more than make up for the effortlessly entertaining Gimme Danger's relative lack of context or depth.
Movie Info
Emerging from Ann Arbor Michigan amidst a countercultural revolution, The Stooges' powerful and aggressive style of rock-n-roll blew a crater in the musical landscape of the late 1960s. Assaulting audiences with a blend of rock, blues, R&B, and free jazz, the band planted the seeds for what would be called punk and alternative rock in the decades that followed. Jim Jarmusch's new film GIMME DANGER chronicles the story of The Stooges, one of the greatest rock-n-roll bands of all time. GIMME DANGER presents the context of the Stooges emergence musically, culturally, politically, historically, and relates their adventures and misadventures while charting their inspirations and the reasons behind their initial commercial challenges, as well as their long-lasting legacy.
News & Interviews for Gimme Danger
Critic Reviews for Gimme Danger
Audience Reviews for Gimme Danger
Jarmusch makes a documentary that looks surprisingly cheap, amateurish and poorly made (even the ridiculous font used seems like from PowerPoint), being also superficial and irritatingly conventional like a TV special and not offering anything relevant in terms of context.
Carlos Magalhães
Super Reviewer
½
Jim Jarmusch's latest documentary is a loving retrospective of one of the most influential bands to emerge from the sixties counterculture. Sadly, it seems to be a somewhat empty effort, but fans of The Stooges will be more forgiving of the film's shortcomings. If you're looking for great insider stories from Iggy and the crew, some of whom sadly passed away before the film's release, there's a few chapters' worth of trivia and context for the band. Iggy Pop is a natural showman, and his interview footage carries the film. The problem here is with some of the stylistic choices - some understandable, some not so much. If you were expecting a lot of rare footage of the band in its prime, it is scarce and redundant with different overlaid footage, giving the illusion that you hadn't seen the same clip 15 minutes before. To keep the jaunty, swirling pace during anecdotes of the bands exploits, there are these downright hokey cartoon cut-out reenactments that are unnecessary at worst, mildly amusing at best. By the end, they hit home the ubiquity of The Stooges in rock music and give a fond farewell to their fallen compatriots. But for a musical documentary, they play "No Fun", "I Wanna Be Your Dog", "TV Eye", and "Search and Destroy" about five times each while only skirting over some of the lesser known material. It's certainly not all about the music, but some could argue that The Stooges as a cultural phenomenon, after reaching this stage of exposure, isn't just about the music anymore. Still, it is a well made movie, and fans will get what they paid for.
K Nife Churchkey
Super Reviewer
Jim Jarmusch the coolest post-modern filmmaker to arise out of the 1980s brings us his unique style to a documentary chronicling the rise and fall of 'The Stooges', am influential rock band associated with the rise of punk music in the early 1970s. The documentary combines interviews with the surviving band members sharing their hilarious and often heartfelt stories combined with Jarmusch's deadpan style and feeling. While fans of the Stooges will actually have a ball watching this film, for those who aren't that familiar with the band in particular will probably find the style injected into the film's subject matter and story to be incredibly worthwhile. Overall, it's a funny, entertaining, insightful and evocative documentary put together, definitely essential for Stooges fans, music documentaries and Jim Jarmusch's filmography.
Luke Eberhardt
Super Reviewer
Gimme Danger Quotes
There are no approved quotes yet for this movie.